10 Best Songs About New York City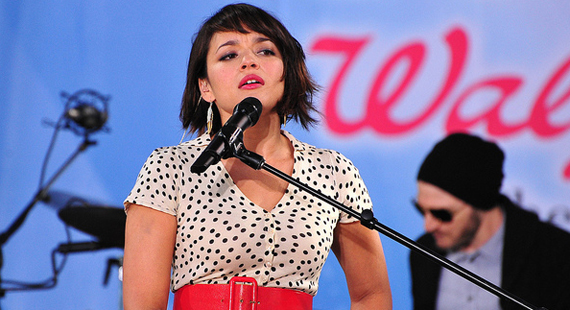 Ah, New York City. The city of dreams, creator of artists, inspiration behind countless big-name, generation-spanning songs. New York lays claim as the subject of probably more gorgeous songs than any other city in the world; something about the combination of old and new, young and old, creative and urban seems to spark everyone to take to their piano (or their musical weapon of choice). Take a hunk out of the Big Apple with our list of the top ten songs about New York.
1. Empire State of Mind | Alicia Keys ft Jay-Z
Okay, you can't really argue with this one; a clash of lush, gorgeous vocals of Alicia sandwiched with the tight, cocky-as-hell rap of Jay Z. This sums up the city musically as well as lyrically. And when you've got two of the biggest American artists ever playing off each other with the greatest city in the world as the backdrop, you create some real, adulterated magic. A modern anthem for the ages.

2. Avenue B | Gogol Bordello
Stepping away from the glossy side of New York, you've got this—an underrated album track from the ultimate gypsy rockers. It's got a few spiky edges that wrap nicely around the backstreet-backdoor lyrical focus, and you've got to love the catchy, perfectly constructed verses that give way to a hectic, explosive bridge and chorus. Extra points if you can work out everything he's saying the first go round.

3. Walk on the Wild Side | Lou Reed
Who else but the (late and much lamented) bard of New York City could have appropriately summed all it's rough edges and still make it sound cool? A tune about prostitutes and drug users packs in every kind of illicit sexual reference and nod to every kind of questionable activity under the song, and it's clear why this raunchy number has lasted so long.

4. Eleanor Put Your Boots On | Franz Ferdinand
A love story set against the backdrop of New York. The British monarchs of indie pulled it out of the hat by leaping across the pond. With nods to famous landmarks, it feels like an affectionate tourist's view of the city—a warm, lovingly rendered watercolor that captures everything romantic and appealing about the city. One of the few foreign artists to capture the city in it's regal glory.

5. New York, New York | Frank Sinatra
Although the song was originally written for and performed by Liza Minelli for Scorcese's film of the same name, it's this version that's lasted the ages. Sinatra was the undisputed King of the Rat Pack, and this proves why—headily tuneful, powerful, and instantly recognizable, you find yourself absentmindedly booking tickets to the city by the end of the first chorus. One of the few covers that's simply far better than the original (Sorry Liza).

6. 53rd and 3rd | Ramones
Many of the greatest songs about New York don't make it sound appealing by talking about how lovely it all is—they do it by talking about all the dirty corners that no one wants you to look too closely at. And therein lies the charm of this Ramones number—alluding to the dirty history of the street corner in question, they recorded an iconic nod to the original seedy underbelly of NYC.

7. Back to Manhattan | Norah Jones
A born-and-raised New Yorker, Jones knows a thing or to about the way the city is divided. That divide is the basis of this sultry, jazzy number about lovers living in Brooklyn and Manhattan. Her voice is a throwback to another world of music, and the song itself identifies the distinct divides between people in the same city. And, let's face it: you can't beat the silky smooth wanderings of Norah Jones, can you?

8. The Message | Grandmaster Flash and the Furious Five
While this is probably not the song that people would particularly like to associate with New York, this is probably one of the most important songs about the city. Not only is it a cracking, powerful, sizzling slice of hip-hop by one of the masters of the genre, but it provides a pretty bleak—and allegedly dangerously accurate—look into life in the ghettos when it was released. Still as potent today as it was back then.

9. New York, I Love You, But You're Bringing Me Down | LCD Soundsystem
It's hard to write a song that properly encapsulates the feeling of being trapped in your hometown—especially one as vast and seemingly all—encompassing as New York. But LCD Soundsystem managed to pull it off with this rich, heady piano ballad. It's bitter without being miserable. A swelling, building number that bemoans the tragedy of a sanitized city.

10. Spanish Harlem | Ben E. King
It was covered by a number of artists in the years following it's release, but the original still remains the standard, in no small part due to those sensational lead vocals. The song itself throws together a bunch of musical styles from all over the world—an appropriate metaphor for this melting pot city, no? Aside from that, there's a great song at it's heart that deserves more notice.

Around the Web