Artist Perspective: What is it Like to Play South by Southwest?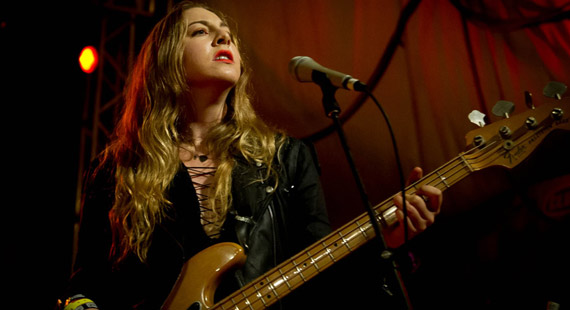 Mark Runyon | ConcertTour.org
South by Southwest is one of the music festivals bands dread and dream of playing. Why dream? Well, with a mixture of film, music, and interactive materials, there's a selection of media on display that provide an amazing arena for artists to be discovered. And dread? Because you come up against one of the most discerning audiences you'll find anywhere in the world. Launched in 1986, SXSW started off as a small music festival before becoming one of the most instantly recognizable names in music. By the end of the nineties, it had incorporated a number of medias and developed a reputation for staging some amazing bands—both famous and new. This year, it premiered a number of movies—including the Kickstarter-backed Veronica Mars. So what exactly is it like to play South by Southwest? A few ex-stage dominators share their thoughts…
It Caters to Bands
Many bands commented on how friendly and different the experience of playing at SXSW was compared to other festivals. A running theme seemed to be their willingness to give bands a reasonably free rein on their own creative endeavors. Travis Barker of Blink 182 commented, "I think it's kind of weird. South by Southwest started off as a showcase for undiscovered artists. Now, it has turned into a festival where artists, who have been successful for 20 plus years, are playing shows. It's quite a trip. I've always had a good time at South by. What I like most is that it's about music, where there are more than 100 shows a day. A-track and I did it about five years ago and we had a really good time."
The Set-up is…Different
Artists had different opinions on exactly what its to play for audiences at the festival. With such a mixed crowd, it seems you'll rarely appeal to everyone in the audience, but you can hope for some genre-friendly fans—and rely on putting on a winning performance for the rest of them. Steve Aoki enjoyed the experience, saying "At any festival, it's a bit more stressful because you're playing to a crowd that might not necessarily know your music or your name…[the audience] have love for me no matter what happens and they're like family. If there's a technical foul up, they don't care. They're forgiving and they're still there for me." Allen Stone, however, was less forgiving (and apparently so were his audience) "We had a showcase last year that was horrible and unprofessional. They let too many people in so the venue was super packed, nobody was comfortable and they didn't want to have a good time. Also, the monitors fed back the whole night so I couldn't hear a thing and ended up blowing my voice."
The Energy is Amazing
With the kind of showcase this is, you'd expect an incredible buzz to envelop the whole area for days. Many artists have found the creative energy a huge boon, citing it as the reason for great performances and particularly receptive audiences. Krisstofer Lo, a performer at a recent SXSW, said he loved it; "Even though not everyone knew who we were at our showcases, the energy at South by Southwest is really cool. People are so eager to just check out new bands. They'll just walk up and see a show and sort of move on and see another show." The keyboardist from Highasakite, Marte Eberson, said that a change of pace worked out well for his gig—"Performing at South by Southwest brings a different energy to the band because we always have to rush. It gets our adrenaline pumping. I personally think it's a fun way to play concerts. Yes, it's always nice to have a lot of time to prepare, but it's fun to just say, "Ok! Now we have to play. Come on!" ".
Random Observations
And if all of that hasn't tempted you to try out the coolest way to pass time in Austin (fun fact: SXSW is Austin's main source of public income), try these encouraging words from musicians who've seen it all before. Though if you're not already desperate to play at (or at least visit and stand in awe) this ridiculously cool festival for all things creative (well, mostly), I doubt there's much hope for you at all.
Vocalist Liela Moss pointed out the plus side of the weather; "There is no mud, which is pretty great for British people to see. Austin natives really embrace the scene, which is not always the case at other festival locations. If your driving up to a UK festival, the locals are usual grumpy f*ckers complaining about noise." And lead singer of the Preatures Isabella Manfredi leaves as with this quote; "The sheer number of people that come to festivals like South by Southwest makes performing much more exciting and you feel like you're reaching so many more people. In America or the UK, music is a part of life."
Around the Web