Beale Street Music Fest 2014 Headlined by Kid Rock, Foster the People, Alabama Shakes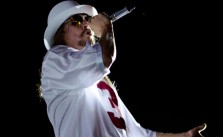 Mark Runyon | ConcertTour.org
When 2014 is all over, Memphis' Beale Street music festival may well stand alone as the festival with the strangest and most eclectic lineup.
This year's shindig is set to be headlined by Foster the People, Motörhead, Alabama Shakes, Pretty Lights, Avenged Sevenfold, and Kid Rock. From there, things just get weirder as Snoop Dogg AKA Snoop Lion, Joan Jett & The Blackhearts, The String Cheese Incident, STS9, Jerry Lee Lewis, Grouplove, Bone Thugs-N-Harmony, 311, Juicy J, and Wolfmother are also on the bill.
Other notable acts set to show up (and presumably, play shows) include Dropkick Murphys, Third Eye Blind, Bootsy Collins, Patti Labelle, Chick Corea & The Vigil, Dandy Warhols, Jason Isbell, Seether, Blues Traveler, Fitz and the Tantrums, Dicky Betts, North Mississippi Allstars, MS MR, Carolina Chocolate Drops, and Twenty One Pilots.
"We are bringing the best of the best of touring music talent this year," says Jim Holt, President & CEO of Memphis in May in a statement announcing the lineup. "We pride ourselves on presenting a diverse line-up designed to appeal to musical enthusiasts from all segments of the population across the country and around the world. The Beale Street Music Festival offers something for virtually every musical taste." Diverse is one word, Jim.
The festival has also expanded its late night festivities featuring Big Gigantic and Beats Antique on Friday and Saturday night, respectively.
Festival organizers must have had a riot putting together a lineup that also boasts numerous Memphis locals, including rock-n-roll legend Jerry Lee Lewis, who is returning for his 11th performance at Beale Street Music Festival, as well as Juicy J, along with North Mississippi Allstars, Lord T & Eloise, Surrender the Fall, Project Pat, Reba Russell, Memphis Dawls, Freeworld, Will Tucker, Eric Gales, Sonny Burgess and the Legendary Pacers, Herman Green, Ghost Town Blues Band, Blind Mississippi Morris, Daddy Mack Blues Band, Robert "Wolfman" Belfour, Fuzzy Jefferies, David Evans, Brandon Bailey, Leo Bud Welch and Kenny Brown, all of whom will be representing their city with pride.
The festival is set to take place from May 2nd-4th in Tom Lee Park, Memphis.
Around the Web