Concert Review: Big Boi at CounterPoint Festival in Atlanta
The rain clouds loomed large over the CounterPoint Festival grounds on Saturday, but somehow the skies failed to open up to sour the revelry. The rain-shortened Friday session was dominated by the electronic acts, and Saturday featured heavy weights like Skrillex, Pretty Lights and Steve Angello. In addition, festival organizers carved out a block of time for music of a tad different variety, as Big Boi and Wale brought the rap/R&B flavor to all these white boy table turners.
Big Boi, perhaps better known as half of the dynamic duo Outkast, drew the 5 o'clock time slot for CounterPoint. This seems like a logical point to bring up the obvious question seemingly on everyone's mind — what happened to Outkast? Its been almost six years since the band released the Idlewild Soundtrack. In March, Andre 3000 said Outkast wasn't dead, and that he is very much still a part of the group. With that said, he offered no specifics regarding any new Outkast works or even if Outkast would come together again. It seems to remain one of music's greater mysteries. If we can read the tea leaves though, its easy to pin the blame squarely on Andre for the lack of production. Big Boi has released a pair of albums, with another on deck, since Outkast faded into the sunset while Andre muses about a coming solo release.
Needless to say, Big Boi brought quite the pedigree to the stage. Early bands like Polica and Toro Y Moi drew a modest audience, but everyone in the park stopped what they were doing to see Outkast or at least the closest thing they could get. Big Boi knew what the crowd was here to see, and used those Outkast hits as fuel for the fire. He rolled into "Ms. Jackson" to a rousing response. Andre 3000 wasn't anywhere near Fairburn, Georgia, but this crowd didn't care in the least. Hands were in the air, swaying to the beat, as dancing just swept through the crowd.
Big Boi was performing in support of his upcoming release Vicious Lies & Dangerous Rumors that is due out November 13. He gave us a couple new tracks, which garnered a modest response, very similar to all of his solo work. He seemed to float these songs between the Outkast tracks to keep the audience from heading out to get a corn dog.
Some of the Outkast gems to make the set list included "The Way You Move" and "Ghettomusick." Big Boi gave us "Shutterbug," "Gossip" and "New Daddy Fat Saxxx" from his personal collection. The wings of the stage were thick with people. At one point, a kid spontaneously stepped to center stage and just started breaking it down. Better get this talent locked down, boys.
In all, Outkast — er, Big Boi put on a solid performance. He's smart enough to realize that his Outkast catalog is what carries his solo act, and he spreads the hits liberally throughout his set. He does trot out his solo work, but is careful not to ask too much from his commercially stunted efforts. The best way to describe Big Boi at CounterPoint was watered down Outkast. It didn't have the impact that the pair would have onstage, working off the creative energies of one another, yet it wasn't a washout since Big Boi and his supporting cast were more than capable of delivering the classic hip-hop tracks. There was just that indescribable something missing. Until Andre 3000 finds his way back to the recording studio, Big Boi will continue to entertain the small clubs instead of the arenas.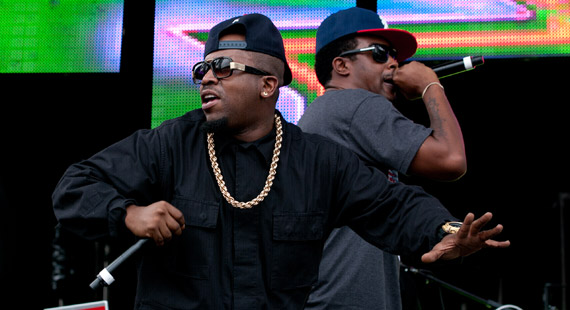 Mark Runyon | ConcertTour.org
Around the Web