Bruce Springsteen, Tim McGraw, The Killers Head Final Four Concert Series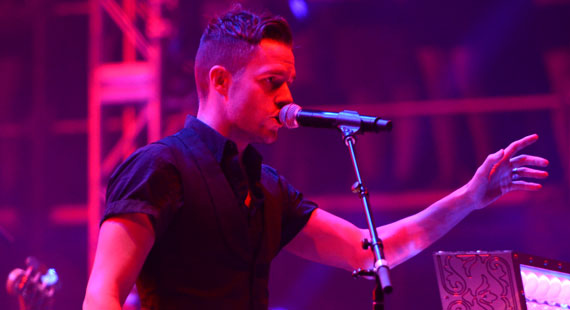 Mark Runyon | ConcertTour.org
Bruce Springsteen and the E Street Band, The Killers, fun., Jason Aldean and Tim McGraw will head up a free show for the 2014 NCAA March Madness Music Festival next month in Reunion Park, Dallas.
The three-day festival, which is set to take place between April 4th-6th in North Texas, will be held in conjunction with next month's Men's Final Four brackets, with organizers scheduling live performances in between games. On Friday, April 4th, Aldean will headline the AT&T Block Party.
Saturday April 5th will see McGraw headlining the Coke Zero Countdown before the first semifinal game and the Killers headlining immediately following the game. As well as headlining, the Killers have also signed up to be the main musical act for a massive March Madness video campaign.
Fun. will kick off the Capital One JamFest on Sunday April 6th, with Springsteen closing the three-day festival. Additional performances are expected to be announced in the coming weeks.
"We expect it to be packed," said Charlotte Jones Anderson, chair of the 2014 NCAA Final Four Championship organizing committee. "The Dallas Police Department is ready and on alert to know when you get a name like Bruce Springsteen, that draws huge crowds. But each day starts early, and with Jason Aldean and Tim McGraw first, that will give us a sense of how things will operate, how people will arrive and how will things go when they get there."
The concerts are free, and on a first-come-first-served basis, so expect some serious competition from dedicated boss fans or expect serious disappointment. The moral of the story is: never underestimate a Springsteen devotee.Watch the social media skies for updates on capacity nearer the time.
"If you look at the site, there's not a lot of parking next to it," said Deputy Chief Scott Walton. He said Twitter will be used to "give people indications that, hey, look we're reaching capacity. Social media will be a big player, as well as normal media outlets. We're going to have to let people know there's a large crowd."
Around the Web