Bruno Mars Takes His Smooth Moves on Arena Tour with Aloe Blacc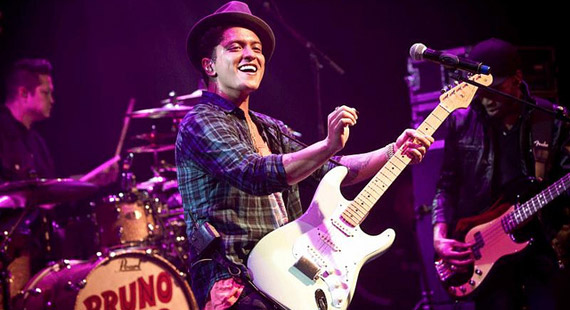 Bruno Mars has just announced further dates for his Moonshine Jungle trek. He'll be taking Pharrell and Aloe Blacc on the road with him.
The tour is set to kick off on April 18th with two nights in Mars' hometown of Honolulu, after which it will pick back up again in late May. Pharrell will appear at the tour's New York, Los Angeles, Toronto, Ottawa and Montreal dates, while Blacc will be Mars' special guest at all of the other dates between May 27th and July 20th, which includes stops in Las Vegas, New Orleans and San Jose. The tour wraps up in Englewood, Colorado on August 17th.
Mars has already packed out his calendar for early-mid 2014, and between his Moonshine Jungle tour are a number of special shows in February, May and August at the Chelsea in Las Vegas' Cosmopolitan hotel. Support artists for those dates, as well as the Honolulu shows, have not yet been confirmed.
Bruno Mars recently headlined the Super Bowl halftime show, and attracted the largest viewing audience in history. An astounding 115.3 million people tuned in to see the Hawaii-native perform alongside rock legends Red Hot Chili Peppers, with whom he performed their rock anthem "Give it Away", before closing with his own ballad, "Just the way you are." Previously, Madonna held the record for the most-watched halftime show with her performance in 2010. The pop icon attracted 114 million, while R&B diva Beyonce attracted 110.8 million viewers.
That wasn't the only record Bruno Mars was breaking that night, however, as he is also the youngest artist to ever headline the shindig, being only 28 years old. What were you doing when you were 28, eh? Probably not headlining the biggest show in the world. Well done, Mars.
Around the Web