We Chat With Beach Pop Duo The Diamond Age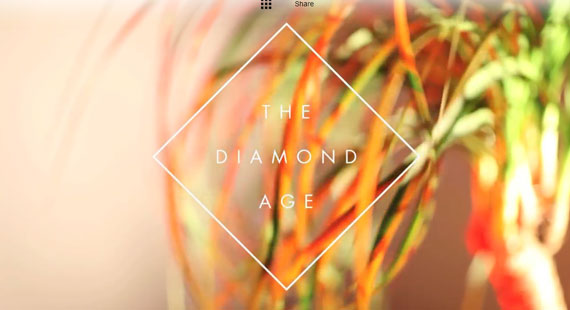 YouTube
Southampton, England is hardly a place on god's green earth that's conducive to a shirtless stroll along a seafront. Perhaps more garden pond than Gibraltan paradise, but listening to The Diamond Age's sunny sonic repertoire, you simply wouldn't know it. With a thumbs up from publications such as The Owl and NME and a generally positive response from music's blogosphere, ConcertTour got in contact to see what the deal was with these coastal English indie-poppers.
How exactly did you guys get started?
Matt Canning and I played within previous bands together (dead!dead!dead! & Woven Bird). After the demise of our previous project, Woven Bird, we decided to just write music as a partnership instead of creating a band, which would reduce all the normal band politics that you have to deal with whilst being a part of a band (ie. what time of the day to practice, playing out of town shows etc..). Secondly, we also found writing as duo much more productive and much more effective compared to our previous projects, so we decided to pursue it, which organically developed into our current position, The Diamond Age.
Was there a particular technique you used to achieve a similar sound across your work?
Across the breadth of our work, we try to use a phrase that I have coined "the golden thread", which means that we try to ensure that our music is consistent and not too disjointed. This could be as simple as using the same effects on the bass guitar or vocals. Plus, we love the 'reverb' effect that we use a lot.
Who, musically, are your biggest influences?
Too long to list all our influences, but we do try and use multiple reference tracks when writing our music. I guess the most notable would be The Smiths, The Drums & LCD Soundsystem.
What's been your greatest achievement since starting the project?
We are still relatively new as we only made a few tracks available online at the end of November 2013 and do consider ourselves to still be in an 'infancy' stage, where we are still trying to develop our music and generate a fanbase. However, I can definitely think of two great achievements thus far; Firstly, the support from Simon Raymonde (ex-bass player of Cocteau Twins and MD of Bella Union) who played 2 tracks on his Amazing Radio show, and secondly, we had a feature within the NME Radar section, which we had no prior knowledge of and a great surprise.
Your sound is described on your Soundcloud as "beach tinged retro rock, with a solid dream-pop production." How did you reach that conclusion?
I really wish either one of us could take credit for this but sadly we can't. The 'retro-rock' and 'dream-pop' labeling was actually coined by various bloggers who heard our tracks on Soundcloud and then decided to write about us. I should add, we have also been described as Post-Punk Pop, Shoe Gaze and Indie Rock. As long as people listen to our music, then can call us whatever they like.
Did you have a clear, concise idea of what music you would make as a band?
I do believe when we started this project we had a clear and concise idea about the sound that we were trying to achieve, which would be very focused around guitar, bass and drums. However, in practice, we've found our music has evolved and taken a different direction with more groove and dance based vibes.
If someone didn't know you, what would be the most interesting thing about you that might persuade them to take a listen?
I really don't like force feeding my music on anyone as I'm a true believer of quality over quantity. I really do believe if you have a true quality product then the masses will find out about it somehow. I think we've been very fortunate to have so much positive feedback and support from bloggers and podcasters.
Have you been doing many live shows? Have they gone down well?
Due to all the positive responses that we have received to date, we were very fortunate enough to be invited to perform at this years Great Escape Festival held in Brighton, which is a great platform to showcase new music. We played at Sticky Mikes Frog Bar at 3pm, and were informed that we had 120 people watching us, which was an incredible experience. We also found out that we had several positive tweets during our performance too!
What are your ambitions for the future, and where do you see yourselves in 1/2/3 years time?
Our primal objective is to produce an album full of quality tracks. Once we have achieved this, we would love to get on the festival market for 2015, and then try and promote ourselves anywhere that will have us!
Find out more about The Diamond Age on their website, SoundCloud and Twitter.
Around the Web