CMA Fest Review: Keith Urban, Lenny Kravitz, Jason Aldean, Kelly Clarkson
The CMA Music Festival may look like a musical fanfare, but it's actually a mad scavenger hunt to try to piece together which surprise artists will find their way to the LP Field stage each night. Already this weekend we've seen impromptu performances from Tim McGraw, Kid Rock, Sheryl Crow, Kenny Rogers and Jason Mraz. Most festivals would kill for a top line of performers like that, but at CMA they are just fun treats. While I was waiting to get into the photo pit this evening, I happened to see one of the security personnel's schedule for the evening. Beyond the high wattage stars that were already public knowledge (Keith Urban, Kelly Clarkson, Dierks Bentley), there were a few eye popping names that I thought couldn't possibly be right. Sure enough, Lenny Kravitz, Jason Aldean and Trisha Yearwood just helicoptered in to play a few. I think CMA just made every other country music festival irrelevant. I'll let you decide if that is a good thing.
So we got a tease of the Oak Ridge Boys Thursday night when they sung the national anthem. Tonight, they opened the music. These boys have been around forever. Everyone knows "Elvira." That is the song not the busty vampiress. That is one of the Oak Ridge Boys signature tunes. It's a bit fitting that the band were introduced to the stage by the principles actors of Duck Dynasty.
The Oak Ridge Boys did roll out "Elvira" as well as a few quick songs to fill out their 15 minutes set. They thanked the CMAs for inviting them to play with all of the young country artists. They said it was important to know where we've come from which was the perfect transition into their tribute to George Jones. They sang "Same Old Me" as photographs of the country legend cycled through on the big screens. George's wife, Nancy, was there and thanked the crowd for supporting her during this rough time. With George's passing only a couple weeks past, the loss weighed heavy on the festival and its fans. He seemed ever present.
The Florida Georgia Line hit the main stage next. These boys have had quite the run over the past year. Last year, they were playing in the parking lot outside of LP Field, and now they've jumped to the main stage. Brian Kelley (Florida) and Tyler Hubbard (Georgia) came out full of energy, ready to rock this stadium. They opened the evening with "It'z Just What We Do."
Their latest album Get Your Shine On was released back in January and they've been touring pretty much non-stop ever since. In their brief four song set, they trotted out all of their singles from "Round Here" to "Shine On." They lit the crowd on fire with their number one single "Cruise" which provided the rocket fuel to their instant rise to fame.
So we know that Lenny Kravitz and Jason Aldean are due up next (the crowd is still in the dark on this one), but we don't know what the format is going to be. For those scratching their heads trying to figure out how Lenny Kravitz factors into country music, he was at the CMT Awards on Wednesday night and performed a duet with Jason Aldean. The CMA organizers must have asked him to stick around to reprise his genre-bending performance at the festival.
For Kravitz's rock fans out there, I don't think there is any worry about him pulling a Darius Rucker and jumping ship for country. He played his rock catalog during his CMA set including favorites like "Are You Gonna Go My Way" and "Let Love Rule." This was Lenny's set and Jason Aldean would come out to lend a hand. Once the chords of "American Woman" began rifling out, Aldean hit the stage. I can't say this was the most natural pairing, but its oddness somehow worked in its favor. I may be in the minority, but I thought it was great to get a little rock infusion in this country event.
Dierks Bentley started off his six song set with his hit single "Free and Easy Down the Road I Go." He brought the full band along with him, and they would frequently come together at center stage for a jamathon. He highlighted a new song "Bourbon in Kentucky." The crowd got all worked up into a tizzy when he said he needed to call on a special guest to help him out, but it wasn't the guest they were hoping for. Instead of Kasey Musgraves, seasoned Nashville songwriter Hillary Lindsey displayed her vocal talents onstage.
After playing tracks like "Up on the Ridge" and "What Was I Thinkin'," he stopped for a second to say he'd love to be sitting out there in the audience drinking a cold beer with the crowd and witnessing the greatest country show on earth. He lit up LP Field when he asked everyone to get out their cell phones for "Home." It was a stirring tribute to our military who put their lives on the line every day to fight for our freedom.
American Idol season one winner and pop queen Kelly Clarkson was up next. She was a bottle of contradictions, equal parts ecstatic and anxious. She is newly engaged yet she didn't know where she misplaced her ring. This worry became a recurring theme throughout the evening. Maybe officiant Blake Shelton knows. She was also worried because this was the first country festival she'd played. Although she is firmly entrenched in Top 40 pop, you could hear the country influence peak out on a few of her songs.
She highlighted chart topping tracks like "Stronger" and "Because of You." Jason Aldean even came out to sing a duet with Clarkson. Kelly won the nightly popularity contest as she scored not one, but two guest stars. To close the evening, she dusted off an old Garth Brooks tune "Ain't Goin' Down ('Til the Sun Comes Up)." Who better to help her out on a Garth song than his wife, Trisha Yearwood. The two sounded great together even if Trisha needed some crib notes so she didn't muck up her husband's lyrics. Hopefully, this performance is a tune up to a Garth Brooks, Trisha Yearwood tour in 2014
That leads us up to the star of the evening, Keith Urban. He opened things with "Long Hot Summer" in the cool breeze of the Tennessee night. He's recognized as one of the greatest guitarists in music. He would frequently pull away mid song to let his guitar loose. It would run and run until he yanked it back into submission. I mean this isn't a Phish concert after all.
Urban just looks like a rock star with his well-cultivated physique, tattoos and tussled hair. The audience's love bridged the oceanic divide for the Aussie import. He played crowd favorites like "You Look Good in My Shirt" and told them he wished the set could go on all night long. On his farewell notes of the evening, a burst of fireworks towered over the back walls of LP Field. It was a nice punctuation mark for a great night of country music.
Well the CMA Fest may have taken a bit of a breather last night, but it punched things back to full throttle once again Saturday night. Lenny Kravitz and Jason Aldean took a solid bill and shot it through the roof. Trisha Yearwood's appearance was brief, but special since fans rarely get to see her live anymore. Guest stars are great, but Keith Urban was the undeniable star of the evening.
We enter our final day of coverage of the CMA Music Festival. We close things out with a bang with Carrie Underwood, Brad Paisley, The Band Perry and Jake Owen. I think it's pretty safe to say we'll see a few special additions this evening. The question is always who. Check in with us tomorrow as we wrap up our fantastic time at the CMA Festival.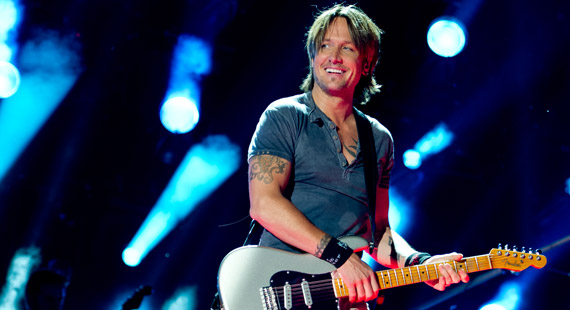 Around the Web