Concert Review: Jake Owen at Toadlick in Dothan
The rain subsided and the sun elbowed through the clouds as country music's rising star, Jake Owen took the stage on Day 2 of Dothan, Alabama's Toadlick Music Festival. The crowd, who was milling about following the conclusion of Sawyer Brown's set, quickly filled in to sing along to the Florida native's current single "Anywhere with You" which is currently inching its way to the number 1 spot on Billboard's Country Music Charts. Outfitted in a Dodgers raglan tee, bell bottom jeans, bare feet and his shaggy Matthew McConaughey good looks, Owen launched into another high-energy hit "Keepin It Country" commanding every inch of the stage as his own.
This young up and comer definitely has a way with the ladies, and the fellas too, going out of his way to pump up the crowd by signing hats and tees, snapping photos with fans' smart phones, even throwing the occasional high five. A pair of young men in the front row made a sign that made Jake roll with laughter. He read it to the crowd as it proclaimed that they had been arrested the night before trying to obtain "apple pie moonshine," the subject of a feel good track from his latest album.
While his material doesn't lack for carefree party songs like "Barefoot Blue Jean Night" and "Yeehaw," he slowed the tempo of the set for a few tracks that venture out of the shallow end. "Alone With You," is about wanting a deeper connection with a woman who is only interested in carnal pleasures, and "Starting With Me" that is chock full of regret for the careless actions one commits in their formative years.
His third album, Barefoot Blue Jean Night is having great success on the charts; the title track has been certified platinum and "Anywhere With You" is certified gold. He took a different approach on this album, utilizing Nashville's songwriting talent rather than writing his own material, as he did on his first two albums. His approach is paying off, as many touring songwriters run out of steam by their third album. His third single from Barefoot Blue Jean Night will be "The One That Got Away" which is about a lost love, a natural hit for the summer charts.
Jake Owen seems to be everywhere all at once in 2012. In addition to a demanding touring schedule, he has made several television appearances including Jimmy Kimmel, Jay Leno, and Chelsea Lately, the later of which he was able to hold his own against the most deliciously inappropriate of late night hosts.
Jake Owen played above his billing at Toadlick, proving to be one of the most impressive artists to play the festival thus far. He has a real passion for the music and that flows through his performance. He's having fun on the stage and that enthusiasm is contagious to his audience.
Jake Owen will be touring with country legends Kenny Chesney and Tim McGraw all summer on their Brothers of the Sun Tour. With cross-over potential and talent to spare, Jake Owen is someone to keep a close eye on. My bet is he'll be headlining a major tour before long. Be sure to check him out when the Brothers of the Sun Tour finds its way through your city.
Jake Owen Toadlick Set List
Anywhere with You
Keeping it Country
Starting With Me
Alone With You
Nobody Feelin No Pain
Yehaw
Journey of Your Life
Barefoot Blue Jean Night
Heaven
Apple Pie Moonshine
Jake (Lynyrd Skynyrd cover)
Don't Think I Can't Love You
Every Reason I Go Back
Mountain Music (Alabama cover)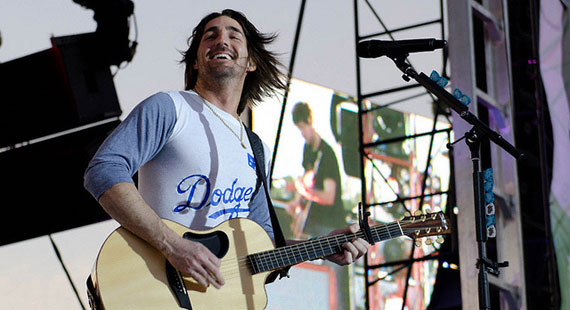 Mark Runyon | ConcertTour.org
Around the Web