Concert Review: Ray Lamontagne at Cobb Energy Centre in Atlanta
Since his debut release, Trouble, in 2004, Ray Lamontagne has established himself as one of the brightest stars among the new wave of folk singer-songwriters. His lyrics have a probing depth, his voice, a raspy frailty, while wielding a stage persona of an introvert trapped in an extroverted world. He is a complex man and that complexity shines through in his music.
Thursday night, he wrapped up the final date of his 2012 tour at Atlanta's Cobb Energy Performing Arts Centre. It was delayed gratification for the audience, as Lamontagne was set to perform the previous Wednesday. A nasty case of strep throat forced him to postpone his Atlanta and Nashville dates, the crowd didn't seem to mind, as the sold out swell from a week ago seemed to shift around their schedules for the rescheduled date.
This evening was pitched as a solo acoustic show, so it was just Ray and his guitar, as well as trusty friend Zach Hickman on the upright bass. The stage design looked like a NYC loft out of the 1930s complete with Victrola record player. There was a lone spotlight beaming down upon Lamontagne. This was a no frills setup, but it did lend the performance an intimacy that betrayed the larger Cobb Energy venue.
Ray Lamontagne's most recent 2010 release God Willin' and the Creek Don't Rise was well represented in the set, as he played the title track, "Beg Steal or Borrow," "New York City's Killing Me," and a rousing bluesy-funk drenched "Repo Man." Though God Willin' was his most recent studio effort, he spread the set list evenly over his four albums.
In the previous times I've seen Ray in concert, he's been fairly reserved, not engaging the audience in much conversation. He's a reserved guy, private in nature, so I always assumed that he wanted to let the music do the talking for him. Last night, he put these assumptions on its ear, using the solo acoustic format to break into several VH1 Storytellers-type moments.
When introducing "Jolene," he talked about the struggles of an 18-month touring cycle and getting burned out on the music. He mentioned the struggle of getting the creative process flowing again, and shared the details of a conversation with Elvis Costello, where Costello mentioned "Jolene" as one of those songs that would open fans up to Lamontagne.
Earlier in the evening, he was extolling the virtues of Townes Van Zandt and somehow that bled into the utter coolness of Willie Nelson who is evidently the inspiration behind Ray's distinctive beard. That all preceded him performance of Trouble cast off track "One Lonesome Saddle." I've seen James Taylor do a similar story telling format years ago, and I have to say, I love it. It just gives you a window into the artist's soul, letting songs that you've known and loved for years take on new meaning with the additional layers from the artist's song journal. Kudos to Lamontagne for giving us a looking glass into the creation of these gems, and as much as it pains me to say, I would have gladly sacrificed a song or two off the set for more story telling.
You could tell that the sickness that sidelined him for a chunk of last week wasn't completely in the rear view. His voice was beautiful as always, yet not completely tack sharp as we are used to. Regardless, he was a trooper playing a two hour set. He opened the encore with a sultry "You Are the Best Thing" that was a very cool re-imagining of the favorite song.
Ray Lamontagne didn't disappoint the starved audience at the Cobb Energy Centre. He played a broad set that grabbed favorites from the emotionally gutted "Empty" to his love song to the ex-White Stripes drummer "Meg White." Pulling the curtain back to show us the inner workings of some of these tunes added another dimension to the evening, and I'd say it was a rousing success. Now its likely time for Lamontagne to go into hibernation once again, putting the guitar and harmonica in moth balls. After a much needed rest, we hope to see him refreshed and exploring new avenues of his talent.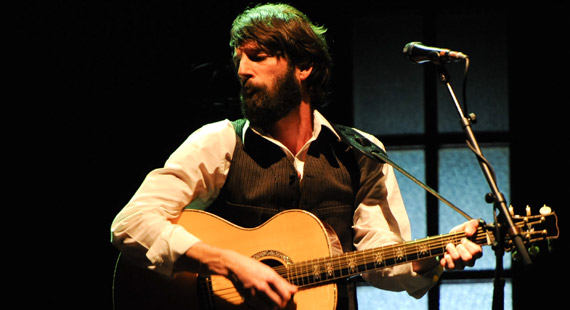 Mark Runyon | ConcertTour.org
Around the Web