Concert Review: Sister Sparrow & the Dirty Birds Bring Soul to NYC's Bowery Ballroom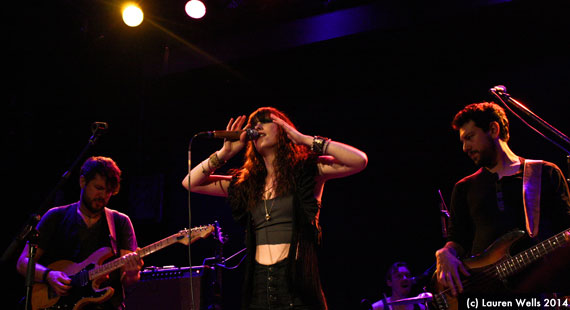 Lauren Wells | ConcertTour.org
Sister Sparrow and the Dirty Birds' talent took flight last night before an intimate, 200+ crowd at the Bowery Ballroom in Manhattan.  The lower east side venue played the perfect host, leading concertgoers through a mellow lounge space before reaching the main stage.  After opening act Paris Monster played an experimental synth-pop/funk set to the growing crowd, Arleigh Kincheloe and her Dirty Birds took the stage with a fit of energy.
With an enthusiasm matched by that of the crowd, Arleigh commanded the room with a seasoned performer's intuition by interacting with her fans and showing appreciation to her bandmates throughout the set.  While some concertgoers got up close and personal, others preferred to take in the show from the venue's balcony.  From either vantage point, the performers' soulful energy was palpable.
Supported by the Dirty Birds, Arleigh recognized the talents of her brother Jackson Kincheloe on harmonica, her cousin Bram Kincheloe on drums, and friends Sasha Brown on guitar, Josh Myers on bass, Phil Rodriguez on trumpet, Brian Graham on baritone saxophone, and Ryan Snow on trombone. The eight-piece, Brooklyn-based group sounded soulful and bluesy, giving off a Southern rock vibe.  Arleigh's voice was raspy and full in the best way possible, as she often channeled her inner Janis Joplin a la "Piece of My Heart."  The Dirty Birds showed off their true musicianship as well, using transitions between songs as crisp, bluesy jam sessions to highlight their individual strengths (they even covered part of Led Zeppelin's "Kashmir").  It would be inappropriate to write off this performance as the "Arleigh and Others Show," as the band's collective force brought songs like "Disappear" to life.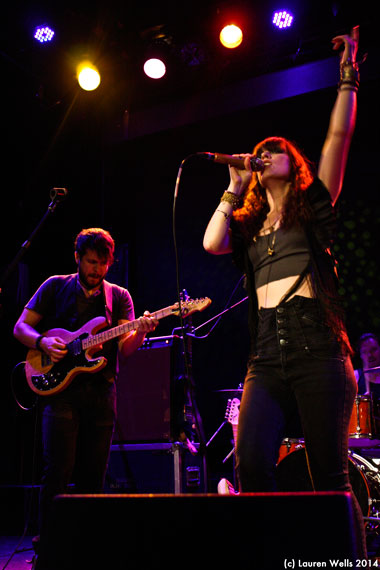 Formed in 2008, Sister Sparrow and the Dirty Birds have cultivated a grassroots following, and many times throughout the show, I found myself impressed not only by the performance, but by the fans as well.  Upon noticing my camera, concertgoers politely insisted that I cut in front of them to get the best shot possible, ushering me to the front of the stage– a way of making sure their beloved band was properly represented in the press.  Their friendly, accommodating fans are eager for the band to be heard and seen, which is refreshing in New York City, where everyone seems to protect their favorite artists like a momma bird.
Arleigh's playful and active demeanor was offset by moments of earnest sweetness, especially as she asked everyone to "think about their momma" before dedicating the next song to her own mother.  "Sometimes we take the people closest to us for granted, so tomorrow call your momma because she will have your back no matter what. We all need a little tenderness sometimes," Arleigh told the crowd.  Hitting another tender note, Arleigh called attention to a tip jar in the back of the venue, dedicated to helping the band's "dear musician friend" recovering from an illness.  These moments reflect the band's ability to change pace so rapidly, going from an intense rock and roll song to a sweet, soulful piece.  This versatility will serve them well as they continue their summer touring.
Picking up momentum and gathering a following on the festival circuit, Sister Sparrow and the Dirty Birds have performed at Bonnaroo, Firefly, Mountain Jam, Voodoo Experience, Bear Creek, Gathering of the Vibes, Telluride Jazz, Austin City Limits, and the New Orleans Jazz Fest.  They have also shared a stage with Donald Fagen, Warren Haynes, Gov't Mule, the Avett Brothers, Fitz and the Tantrums, Counting Crows, and Sharon Jones and the Dap Kings, among others.  Things are only looking up for the band after the release of their self-titled debut album in 2010, their 2012 sophomore album Pound of Dirt, and their Randy Jackson-produced 2013 EP Fight.
After dedicating their 2010 song "My House" to all the lovers in the audience, Arleigh crooned, "I've been counting stars instead of counting sheep / It keeps me awake when I need to be asleep / Maybe if you were here with me I wouldn't be so cold / This business of you being gone is getting pretty old."  Even while singing about missing a special someone, Arleigh's voice emanates comfort, allowing listeners to find solace in the fact that they are lucky to have someone to miss.  She transitions from sweet to sassy in the matter of seconds, as she falls down and jams out to songs like "Make It Rain," urging to crowd to "just let it go."  As Arleigh danced all over the stage, the crowd joined in, and we all found ourselves embracing a warm, free-spirited city night thanks to Sister Sparrow and the Dirty Birds.
Around the Web