Concert Review: Skrillex at CounterPoint Festival in Atlanta
Saturday night at Atlanta's Counterpoint Festival, belonged to Sonny Moore, better known as the Grammy award-winning Skrillex. From the first beat, he completely owned the crowd, whipping everyone into frenzy with his well-known hybridization of scratches and screeches.
Following Steve Angello of Swedish House Mafia (also a crowd-pleaser), Skrillex wasted no time getting down to business, filling every sense so completely, the crowd couldn't help but play into his hands. He began early on with his nod to Damien Marley (Make it Bun Dem) before paying homage to artists as diverse as Will Smith (actually DJ Jazzy Jeff and the Fresh Prince), Benny Benassi (Cinema), and Pretty Lights (Finally Moving). "Rounding" things out was a Make dat Booty Clap remix.
Concertgoers were prone to spontaneous fits of jumping, dancing and fist pumping as beat after beat threaded through the crowd like so many strands of silk. Like a truth that was inescapable, Skrillex seemed to feed off the crowd's intense energy, getting heavy into his trademark sound upon moving into his debut single, My Name is Skrillex, with the words on display for all to see behind him. He also treated the crowd to First of the Year (Equinox), Kyoto and Scary Monsters, and Nice Sprites.
For all the focus on music, Skrillex's visuals were also quite stimulating, well selected, and expertly timed to the music. This was like a trip to the EDM Museum. This man is an artist. Skrillex was also the only performer at Counterpoint to inject fireworks into his set at critical points. Robot graphics, anime segments, film noir, to the opening credits of Fresh Prince of Bel Air, he showed not only that he is a consummate entertainer, but also has a sense of humor and isn't taking himself too seriously.
It was fitting that Skrillex was one of the final acts of the festival. This young man has a gift. He gets it. He's tapped into your mind to know what you were seeking by coming out to Counterpoint. The long drive through the back roads of rural Georgia (albeit just outside of Atlanta) and the weather delays (a Friday downpour actually shut the festival down for a period of time) were all worth it. This was the perfect EDM festival experience. This is what the EDM community public comes out for. This is what you cannot replicate in your car, at your house, or in the clubs.
A professional that can excite the sea of EDM aficionados with this level of intensity is a rare thing. On Saturday on a farm outside of Atlanta, GA, on the banks of the Chattahoochee, they were there, dancing on the hilltop (near the Countpoint sign), dancing in the wading pool, dancing in the crowd before him. Nothing else mattered at that moment. At Counterpoint, Skrillex provided his fans with the full experience of mind and body. If you appreciate EDM, this happy memory is a beautiful thing.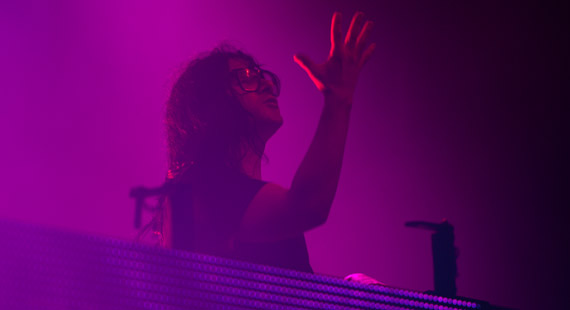 Mark Runyon | ConcertTour.org
Around the Web