Eddie Izzard Imports His Comic Force Stateside in May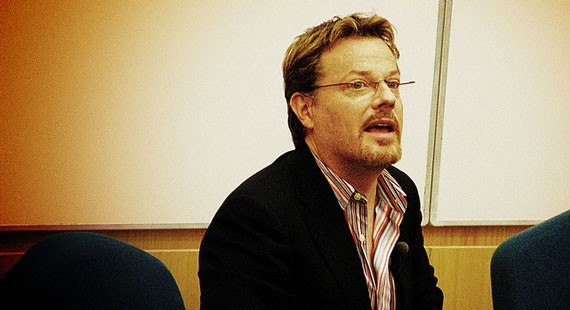 British comedian Eddie Izzard has just revealed that he's going to be heading stateside for his 'Force Majeure' stand up tour.
At present, Izzard's tour will see him visit 32 cities through the spring with more dates to be announced later this year. The stint kicks off with a two night stand at Washington, D.C.'s Warner Theatre, and will see him make stops in Philadelphia, Boston, New York, Nashville, Chicago, Dallas and Austin, before wrapping up this leg on July 2nd in San Antonio, Texas.
Force Majeure is set to be Izzard's most extensive comedy tour ever; launched in March of 2013, and taking him to 25 countries across five continents. Force Majeure will play throughout Europe, Africa, Russia, the U.K., Canada, the US, India, Nepal, The Far East and Australia. Izzard recently completed runs in France performing entirely in French and in Berlin performing entirely in German, so that he can add 'talented linguist' to his long list of achievements. Speaking of which, let's have a look at some of those achievements…
In the US, Izzard is the first solo stand-up comedian to perform at the Hollywood Bowl, has sold-out three consecutive nights at Radio City Music Hall and toured arenas throughout the US including a sold-out show at Madison Square Garden. On the televisual spectrum, Izzard recently guest starred on NBC's "Hannibal", as well as starring in and producing the critically acclaimed FX Network Show, "The Riches", opposite Minnie Driver. He also guest starred in the final season of Showtime's "United States of Tara", and his 2010 documentary, "Believe: The Eddie Izzard Story", received an Emmy nomination.
Is there anything this man can't do? No, really. That was a genuine question. Eddie, if you're reading this: is there anything you can't do?
Around the Web