Eric Church Serves Up Six Free Shows in Two Days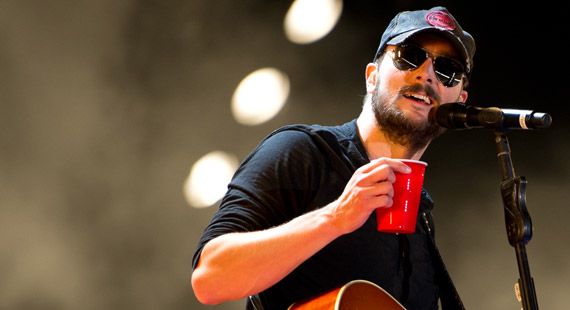 Mark Runyon | ConcertTour.org
Eric Church has got a busy couple of days coming up, and his fans in Indianapolis, Indiana, Rootstown, Ohio, Chicago, Greenville, South Carolina, Charlotte, North Carolina and Atlanta are set to reap the benefits.
The country star has been baiting fans with numerous videos in the run up to the release of his new album, The Outsiders, with the most recent video being released on Tuesday.
In said video, Church reveals six free shows that he is playing to launch the new album.
The video shows the same gloved hand that was present in previous clips, pinning locations to a map.
Further into the clip, cities, venues and times for six performances are revealed, each of which will feature Church performing both acoustically, and with a full backing band.
The shows kick off tonight at 5pm at the 8 Second Saloon in Indianapolis, where Church will perform a few acoustic songs.
After that, he's due to head straight to the Dusty Armadillo in Rootstown, Ohio, where he will play another short acoustic set that begins at 7:30pm.
From there, Church will head to Joe's Bar in Chicago, where he'll be joined by his full band for a free show at 9pm.
He'll repeat the whole thing on Friday (February 14th), performing an acoustic show at the Blind Horse in Greenville, South Carolina at 5pm, another acoustic set at Coyote Joe's in Charlotte at 7pm, eventually ending up at the Buckhead Theatre in Atlanta for a full-band performance that begins at 8pm.
Church gave away tickets to his Church Choir fan club via his website. Those tickets have all been assigned already, but fans in those cities can still contact the individual venues to see whether there are any additional tickets available. The first three shows are restricted to people of 21 years and over, while the last three are ages 18 and up.
Good luck, Church. It's going to be a long two days.
Around the Web