How Do Festival Organizers Choose Artists for Their Bill?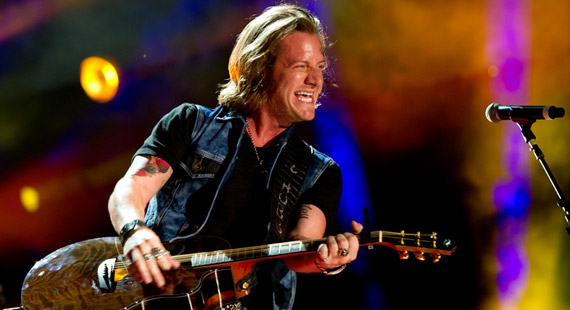 Mark Runyon | ConcertTour.org
Are you heading to any music festivals this summer? I hope so (summer festivals are pretty much a must for any music fans — it's either glowing sunshine topped with amazing tunes, or acres of drenched ticketholders rolling around in mud soundtracked by cool indie bands). But whether you're playing at one or just turning up to absorb the beats, you might be wondering how the bands actually get picked to come along to the festivals in the first place. With line-ups getting announced seemingly every other hour, we've decided to have a closer look at how festival organizers pick their yearly line-ups and guarantee a good time for everyone present. All hail the admin team.
Know Your Audience
One of the most important things about putting together your perfect line-up is working out who your target audience is. It seems pretty obvious, but there's more to this point than just sending out a few questionnaires and checking to see who bought tickets last year. Organizers have to think about what bands their audience will be listening to at the time of the festival. The fickle nature of music fandom means that booking someone who is super-popular right won't guarantee that they will still be by the time your festival roles around. Look at Arctic Monkeys — you can be sure that festival organizers took into account the release of their highly-anticipated fifth album when they were booking festivals this year, meaning that their slot headlining Glastonbury 2014 made perfect sense.
There's also a fine line between narrowing down your audience and accidentally turning the festival into something far more niche than you intended. Say you're organizing an electronic-based festival. Of course you'll want to find a way to seduce big, mainstream acts like Steve Aoki onto the bill, but you don't want to alienate fans of alternative sectors of the genre either. You've got to try and please everyone while creating the illusion of a dedicated concert for specific fans of a given genre.
Choosing Your Bands
Once you've decided what type of audience you'll be aiming your festival at, you have to find your bands. Generally, organizers will take note of who is playing at other festivals that year as it's a good way to establish who's interested in playing festivals and who's possibly out on the road anyway. Katie Nyugen, who was an organizer for Quadstock, wrote in an article about the process of choosing bands for the festival, "Since I knew that music festivals were a strong predictor for up-and-coming bands, I studied each major music festival lineup pretty carefully for noticeable patterns. It led me to making an entire Excel spreadsheet that included every band that would be playing in 2011 at a music festival in one column and every major music festival in the US as the top row. Each band or artist that was playing at more than one music festival would have a box colored in to correlate the music festival that they were playing at."
Unfortunately, your budget also has to come into account. Local bands looking for exposure are likely to play for substantially less money than larger bands and potentially bring a local following. Still, more recognizable names might ultimately draw in festival goers from across the country. Which brings us to…
Hunting Down Your Acts
Once you've decided on your acts, you have to go through a process of actually convincing them to play at your festival. Katie Nyugen also discussed the process of courting bands for your show,"When I watched Mayer Hawthorne perform at Lollapalooza as a live stream in 2011, I knew right then and there that he was going to be my headliner. It was a very instinctual feeling that I still have a hard time describing, but I was confident in my choice and spent 5 months total "courting" him before he had agreed to be a part of our festival. I don't even think that his price range was within our budget at first, but knowing how to negotiate can come in handy. Touring is where most acts make the most revenue so as an organizer it's an important to explain what your show can do for them."
Bands are often keen to play festivals as it gives them access to a ready-made audience who've already paid for a ticket and therefore are probably willing to make the most of their time at the festival, opening their minds to bands they might not have listened to before. It's a wonderful experience for new bands, old faithfuls, and most of all music fans, but don't forget the people behind the scenes when you're rolling in mud/looking for a toilet/failing to pitch your tent this year.
Around the Web