Foster the People Fill in Tour Dates Around Festival Appearances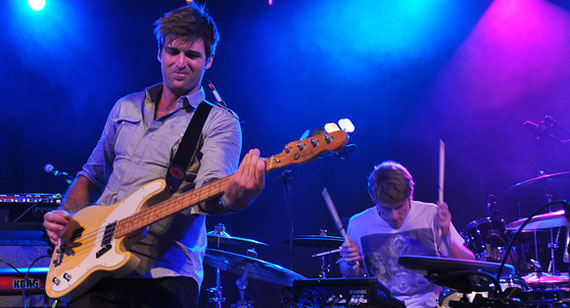 Shortly after announcing the upcoming release of their sophomore album, Foster the People have announced a string of tour dates to surround their summer festival appearances.
The shows kick off with the band's scheduled appearance at Coachella in Indio, California on April 12th, after which the band will head to Las Vegas, back to Indio for another Coachella show, Nashville, Dallas, Boston, Toronto, Chicago, and Portland, among other places, before wrapping up with a performance at New York's Governors Ball Music Festival between June 6th and 8th.
Joining Foster the People on many of the non-festival dates will be solo artist St. Lucia, who pumped out (or should we say 'pumped up'? Eh? Eh?) a remix of Foster the People's "Don't Stop" back in 2012.
The band's new studio full length, Supermodel, is set to see physical, digital, spiritual and all other kinds of release on March 18th, so fans can learn all the words and belt them at the stage when they see them live this spring and summer.
"This record is very guitar-driven," frontman Mark Foster told the NME. "I haven't played this much guitar in a long time." Speaking about the lyrical themes on the album, Foster added, "One of the biggest themes is consumerism and the ugly side of capitalism".
The band's debut effort, Torches, was released in 2011, and scored the band a huge hit with the single "Pumped Up Kicks", which spent eight consecutive weeks at number three on the Billboard Hot 100 chart in the United States, making it the first Billboard Alternative Songs number-one single to crack the U.S. top 5 since Kings of Leon's "Use Somebody" in 2009.
Around the Web