Is Taylor Swift Becoming the John Mayer of the Dating World?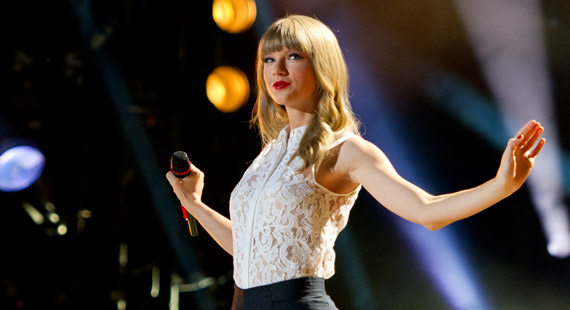 Featureflash / Shutterstock
Relationships are like a double-sided coin for Taylor Swift. As with anyone who is not currently married, all of Swift's relationships have resulted in a break-up thus far – inspiring plenty of heartache, but also creativity. There are many talented songwriters who channel tumultuous emotions into effective songwriting, or at least in Taylor Swift's case – massive hits. Relationships are ripe for the picking in terms of song content, whether it's about love at first sight or finding out your boyfriend has been cheating on you. After all, Swift's debut single – "Tim McGraw" – revolved around Swift getting over one of her first boyfriends, who broke up with her when he graduated from high school. That boyfriend in question, Brandon Borello, would be the first of several exes that Swift would go on to write a hit about. This list would end up rangng from no-names like Borello and Drew Hardwick to big stars like John Mayer and One Direction's Harry Styles.
Swift's dating habits have drawn comparisons to one of her many exes, John Mayer. Mayer also has a reputation for dating frequently, with high-profile relationships previously with the likes of Jennifer Aniston, Katy Perry, Jessica Simpson, and Jennifer Love Hewitt. And like Swift, Mayer is not afraid of culling material from deceased relationships for his songwriting practices. Last year, Mayer released the track "Shadow Days" as a "farewell letter" to Aniston. Shortly afterward, Mayer declared that he would no longer date celebrities. This retreat almost seems to be in reverse order of Swift's dating style; she started with non-celebs, but has recently been nothing but the rich and/or famous.
Even the non-celebs that Swift dates – like Conor Kennedy – have some ties to the elite (hint: Conor's last name). Dating in these high-profile circles is sensitive territory for several reasons. Perhaps the most prominent is that, upon a break-up, a celeb-on-celeb relationship tends to result in vicious rumors. When Styles and Swift broke up, there were rumors from Style's camp that he broke up with Swift because she was not sexually adventurous enough. Now, regardless of whether or not that's true, is that something anyone would want the tabloids to get a hold of? Of course not. But with dating a celebrity, one must always be aware of PR-minded riffs. It is something that John Mayer should have been aware of several years ago; perhaps it may have helped him elude several relationship spats that compare to Swift's tumultuous roster of exes.
Just as John Mayer wrote a song for Jennifer Aniston upon breaking up, Taylor Swift penned a song for John Mayer. "Dear John" was the fifth track on Swift's third studio album, Speak Now. The track's chorus is an apt summary of Swift's feelings toward their ill-fated relationship: "Dear John, I see it all now that you're gone / Don't you think I was too young to be messed with?" Mayer didn't take too kindly to the chorus' question or the song in general. "I will say as a songwriter that I think it's kind of cheap songwriting," Mayer told Rolling Stone. "I didn't deserve it. I'm pretty good at taking accountability now, and I never did anything to deserve that. It was a really lousy thing for her to do." While some may feel Mayer has a point, it's easy to forget how similarly high-profile and seemingly bitter his antics were when he broke up with Jessica Simpson. He referred to Simpson as "sexual napalm" in 2010, and although he apologized several years later it did not come before the release of "Dear John". To be fair, what Swift did to Mayer at least was rooted in artistic merit. Swift doesn't exactly go around to the press slandering Harry Styles or Jake Gyllenhaal, who allegedly ended his and Swift's short relationship via text message. And if she does have something to say about them, it's done very subtly and via a hit-making song. From both a financial and PR perspective, her wisdom seems beyond that of Mayer, who is over a decade older but quite a bit more immature.
Around the Web