Jack Johnson Charts 2014 Summer Amphitheatre Tour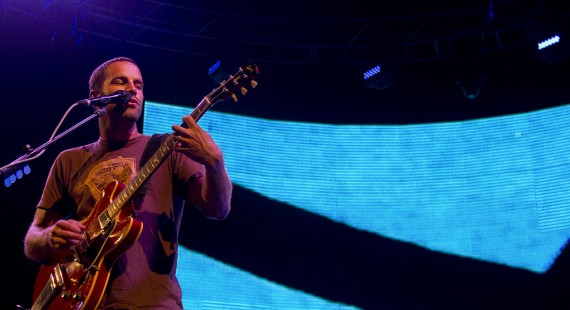 Jack Johnson has just announced a string of new tour dates to take him through to fall 2014.
The singer-songwriter will warm up with a few festival stops at Mexico's Festival Cumbre Tajin and Alabama's Hangout Music Festival before making his way through the East Coast and Midwest across May and June.
More specifically, the tour itself kicks off on May 20th with a show in St. Augustine, Florida, and will see the man himself make stops in Toronto, Chicago, Brooklyn, and play a couple of nights in Los Angeles, before wrapping up with yet another two night stand in Santa Barbara on August 31st and September 1st.
Johnson will be accompanied by various supporting acts over the course of this tour, including ALO, Edward Sharpe & The Magnetic Zeros, Amos Lee and Michael Kiwanuka and not only that lot, but Bahamas will open for him during a one-off show at Celebrate Brooklyn in Prospect Park on June 10th.
The tour will be in support of Johnson's last studio album, From Here to Now to You, which was released last September, peaking at No. 1 on the Billboard 200, with first-week sales of 117,000 copies in the United States. It also debuted at number one on the Canadian Albums chart and on the US Billboard Digital Albums chart, Top Rock Albums chart, Alternative Albums chart, and Folk Albums chart.
Speaking about the songs on the new album, Johnson told the UK's Telegraph that "they come from a personal place, although I made sure there's nothing there giving out little facts that I don't want people to know about my family. But I wanted to focus energy on each of the kids."
A famously eco-aware musician, Johnson's tour will continue to operate environmentally-friendly touring practices, including (according to a press release) "fueling tour vehicles with sustainable biodiesel, offering eco-friendly tour merchandise, sourcing local food from local farms, and promoting ride share programs and mass transit in addition to engaging venues and fans to eliminate single-use plastics, recycle, use water refill stations and invest in community-based carbon offset projects." What a nice guy.
Around the Web