Review: Jack Johnson Kicks Off New York's Summer Concert Season at Jones Beach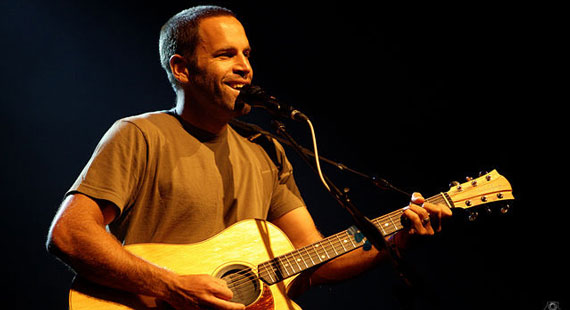 Last night's audience at the Nikon at Jones Beach Theater kicked off their summer with a beautiful night under the moon as they were serenaded by the incredibly talented Jack Johnson, the king of surf-infused folk rock.  Johnson, being the kind of performer you respect for his wholesome morals and philanthropic habits, had Amos Lee open the show.  After tailgating in the beachside parking lot, concertgoers watched the sun set as Lee performed songs from his fifth album Mountains of Sorrow, Rivers of Song. Touring through October and making appearances on the festival circuit, Lee is bringing his soulful folk sound across the country.  He was very thankful for the crowd at Jones Beach, taking a moment to tell us, "You're Jack's fans, and I wanna thank you for supporting him because he's a good dude.  I wanna thank him from the stage, and I'll personally thank him later."  Lee's grassroots vibe emerged as he performed songs like "Jesus" (a song written by his grandfather), "Stranger," and "Truth," although other songs highlighted his ability to switch genres in a matter of seconds.  Before introducing the sexy, R&B-infused jam "Won't Let Me Go," Lee told the growing crowd, "I'm giving it to ya now."  Fans sang along during his hit "Sweet Pea" and "Street Corner Preacher," a twangy country song with a rock 'n roll sensibility.  Lee's set was the perfect start to the evening, as he welcomed sun-kissed fans filing into their seats.
Between sets, the crew set up Jack's staging: a minimal design with a backdrop of large, vertically hanging wooden pallets serving as a projection screen.  Artwork from Johnson's newest album From Here to Now to You was projected onto the pallets throughout the show.  Stage elements such as these looked hand-made and eco-friendly, which wouldn't be a surprise considering that Johnson's own solar-powered home was built from salvaged wood from another house.  While Johnson recognizes that touring leaves a substantial carbon footprint, his goal is to bring an eco-friendly awareness to his tours by encouraging venues to use low energy light bulbs and install reusable, refillable water stations.  The benefits of bringing this green knowledge to his fans outweigh the notion of not touring at all.
When Johnson took the stage in a simple black tee-shirt and jeans, he said, "Thank you for coming down this beautiful evening" before opening his set with the songs "Hope" and "Taylor."  Between these two songs, a majority of the 15,000-capacity venue lit up their joints, a continuing trend throughout the evening.  While fans enjoyed hits like "Sitting, Waiting, Wishing," Johnson played with Jones Beach and a dozen anchored boats in the background.  Much to the crowd's delight, Johnson sounds exactly like he does on his six albums: mellow and authentic with a soulful clarity, a rarity these days.  Johnson mixed up the night by incorporating covers into portions of his own songs: The Cars' hit "Just What I Needed" was sandwiched between verses of "Sitting, Waiting, Wishing," while The Ramones' song "I Wanna Be Your Boyfriend" was united with "Banana Pancakes" later in the set.
Before introducing his fourth song of the evening, Johnson noticed a little girl sitting on her father's shoulders.  "This next song is for this little girl on her daddy's shoulders right here," he said before playing "Upside Down," a song he wrote for the Curious George movie.  After his fifth song of the night ("Flake"), Johnson casually introduced the rest of his band: Zach Gill (piano, percussion, background vocals, and accordion), Adam Topol (drums, percussion), and Merlo Podlewski (bass).  As they began the opening chords for "You and Your Heart," he said, "My name is Jack. Thanks for being with us tonight."
While Johnson performed all of his hits, he also interspersed songs from his newest album throughout the set, a highlight being "Radiate," a song written about one of his three children.  "If I Had Eyes" effortlessly melted into "Bubbly Toes" before Johnson noticed an intoxicated person needing assistance by the stage: "I'm gonna need security over here.  It's OK, nobody's staring– just gotta hydrate," he jokingly reassured the crowd.
After covering Buddy Holly's song "Not Fade Away," Johnson transitioned into "Mudfootball" and "Wasting Time" where his bandmate Zach Gill sang a bluesy verse to the cheering crowd.  Gill's playfulness and love of the stage served him well, as concertgoers were excited to slap hands with him throughout the night.  Grabbing his ukulele, Johnson crooned, "It feels good to be the one that you want, when all I want is you," during "Never Fade," one of the many love songs in his repertoire.  Kim, Johnson's wife of over twenty years and mother of his three children, got numerous mentions throughout the night, as Johnson beamed about his love for her.  During his encore performance later in the night, he mentioned that he took math classes because she was a math major and that meant they could do homework together.  A collective "aww" promptly emerged from the audience.
Keeping the ukulele out for "Breakdown," Johnson told the crowd that a piece of this song was written in a hotel room in New York.  The crowd cheered before quickly erupting into laughter as he noted, "It was just one line, so don't get too excited."  After finishing "Brushfire Fairytales," Johnson invited Amos Lee back onto the stage to sing a cover of Otis Redding's "(Sitting On) The Dock of The Bay," another well-received highlight of the show.
"This next song is about my first band in high school: Limber Chicken.  We were too nervous to play in the school talent show, so we watched this other guy's band play U2 covers and we were so jealous, so this is my way of getting back at him," Johnson said before performing "Tape Deck" off From Here to Now to You.  Gill showed off his chops on accordion throughout "Tape Deck" and "Banana Pancakes" before picking up the pace with songs like "Shot Reverse Shot" and "At Or With Me."  "Symbol in My Driveway" gave way to "Staple It Together," as Johnson noticed that the little girl from earlier in the night was beginning to fall asleep: "The more we try to rock her, the sleepier she gets!"  It's unlikely that she got any shut-eye as Merlo Podlewski rapped during the song.
Johnson closed out his main set with "Good People" before returning for his solo encore to perform "I Got You," "Gone," and "Do You Remember."  Johnson brought out the rest of his band, including Amos Lee and his band, to celebrate the last night of their tour together.  "Home" and "Better Together" were collaboratively performed, giving each member a chance to show off their talents.  In all, the show felt like Johnson and his friends were casually jamming on the beach and having a great time, while we were given the extreme privilege of watching it all go down.  Adjacent to the venue, people walking along the water were in for a treat, as some even stopped to set up blankets and listen in on Johnson's soothing performance.  The concert was a part of the Volkswagen Concert Series at the Nikon at Jones Beach Theater– later in the season, acts like James Taylor, O.A.R., and The Beach Boys will be performing at the venue.
Around the Web