Jack White, Vampire Weekend, Lauryn Hill Descend on Houston for FPSF 2014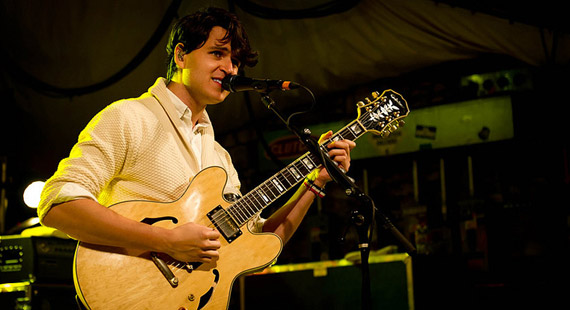 Held at Houston's Eleanor Tinsley Park over the long weekend of May 31st to June 1st, the Free Press Summer Festival has just unveiled its 2014 lineup to the world.
Among the larger acts performing at this year's FPSF are Jack White, Lauryn Hill, Vampire Weekend and the Wu-Tang Clan.
As an aside, am I the only person who's relieved to see a festival lineup announcement that doesn't feature Outkast?
Other acts set to make appearances include CHVRCHES, Dwight Yoakam, Sky Ferreira, tUnE-yArDs, Drive-By Truckers, the Kills, Washed Out, King Khan & the Shrines, the 1975, First Aid Kit, Deftones, DMX, Jana Hunter, Flatbush Zombies, Lord Huron, Edward Sharpe and the Magnetic Zeros, Big Gigantic, Childish Gambino, Mariachi El Bronx, Laidback Luke, Ying Yang Twins, Flosstradamus, Cage the Elephant, Above & Beyond, Die Antwoord, and many more acts.
"I would say that this lineup in many ways represents acts that we have been foaming at the mouth over and chasing for years," says Omar Afra, editor of Free Press Houston and co-organizer of the event said to the Houston Chronicle. "Three of these bands we wanted badly, even back in 2009, so really for us in many ways this is super sweet", adding:
"We've actually instituted a kind of soft guideline for locals, that if you played the prior year or the year before, you don't play this year."
The Free Press Summer Festival is now in its sixth year. The festival was founded by Afra, and Jagi Katial of Pegstar Concerts. Of Montreal and Explosions in the Sky headlined the inaugural two-day event, which was attended by an estimated 30,000. Since then, it has developed a reputation for featuring both international and local talent. Among the latter breed of artists set to play in 2014 are Los Skarnales, Wild Moccasins, the Tontons, Venomous Maximus, Bagheera, New York City Queens and Grand Old Grizzly.
Around the Web