John Legend Plots Acoustic Tour in March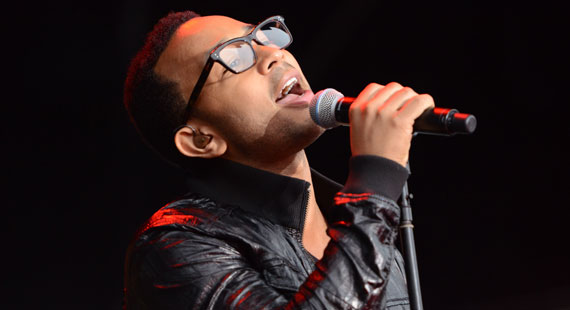 Mark Runyon | ConcertTour.org
Despite having already toured extensively in the fall of 2013 in support of his most recent studio effort, Love in the Future, John Legend has announced a string of new shows, this time sitting firmly on the acoustic side of life.
Dubbed "An Evening with John Legend: The All of Me Tour," John's publicist promises that the singer will perform "in an intimate an acoustic setting." He will be accompanied by a guitarist, vocalists and a string quartet.
The tour itself is set to last for close to three months, with the bulk of the shows taking place in theatres, performing art centres and other fancy venues. The bulk of them are due to take place in the US, but there's also a lone Ontario date in Kitchener on May 12th.
Legend's tour kicks off on March 20th in Temecula, California, and will see the R&B crooner make stops in San Diego, Los Angeles, Las Vegas, Jacksonville, New Orleans, Philadelphia and Brooklyn, among other places, before wrapping up on June 7th in Newport News, Virginia.
Legend's resumes, both musical and personal, are both very impressive. In 2007, he launched the Show Me Campaign, an initiative that focuses on education as a key to break the cycle of poverty. The 2010 BET Humanitarian of the Year award, the 2009 CARE Humanitarian Award for Global Change, the 2009 Bishop John T. Walker Distinguished Humanitarian Service Award from Africare and the 2011 Harvard Foundation Artist of the Year Award honored Legend's efforts and leadership in this area. Legend also sits on the boards of The Education Equality Project, Teach for America, Stand for Children and the Harlem Village Academies and co-chairs the Harlem Village Academies' National Leadership Board.
Speaking musically, Legend has moved seven million albums worldwide, the products of which have bagged him nine Grammy Awards, three Soul Train Awards, the BET Award for Best New Artist and the special Starlight Award from the Songwriters Hall of Fame
Around the Web