Kid Rock, 5FDP, Staind Crank It Up at 2014 Rocklahoma Festival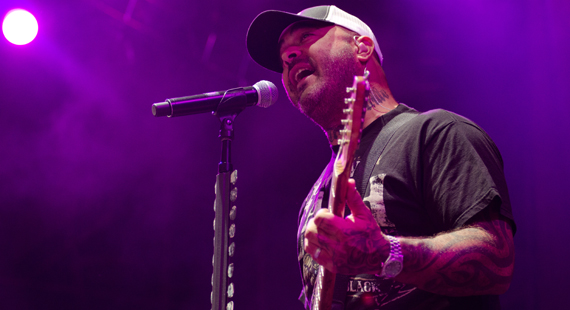 Mark Runyon | ConcertTour.org
Five Finger Death Punch, Kid Rock, Staind, Twisted Sister, Deftones and Motorhead are set to lead the three-day music weekend lineup for this year's Rocklahoma.
The hardest (and punniest) rock festival, which is due to take place at the Catch the Fever" festival grounds in Pryor, Oklahoma (obviously), will also feature Seether, Jackyl, Filter, Black Label Society, Killswitch Engage, Skid Row, All That Remains, Tom Keifer, Hellyeah, Down, Pop Evil, Adelitas Way, Black Stone Cherry, Trivium, Redlight King, Skindred, Eve to Adam, Texas Hippie Coalition and many more.
Among the smaller acts making appearances are The Pretty Reckless, We as Human, Devour the Day, Kyng, Heaven's Basement, Gemini Syndrome and Truckfighters and others.
Twisted Sister's Dee Snider says, "I view this festival as sort of a 'Royal Rumble' of rock. It's every band for itself, each trying to claim the belt. When Twisted Sister is done that night, promoters are going to need to change the name of the event to 'I Wanna Rocklahoma'!"
Staind guitarist Mike Mushok added, "Totally stoked to play Rocklahoma again! I'm looking forward to a great day of music shared with some amazing fans."
"I initially questioned whether or not we would be able to top last year's Rocklahoma lineup this time around," says Joe Litvag, Rocklahoma's co-executive producer for AEG Live and apparent pun-master. "But with some of the biggest names in the rock world today like Kid Rock, Five Finger Death Punch, Seether and Deftones playing alongside Rocklahoma legends like Twisted Sister, Jackyl, Tom Keifer of Cinderella and Kix, there is not a doubt in my mind that we just raised the bar! Memorial Day Weekend will never be the same!"
Rocklahoma is due to take place during the weekend of May 23rd-25th 2014. Oklahoma, prepare to get Rocklahoma-ed.
Around the Web