How Kid Rock's "Picture" Opened the Door for Country Crossover Artists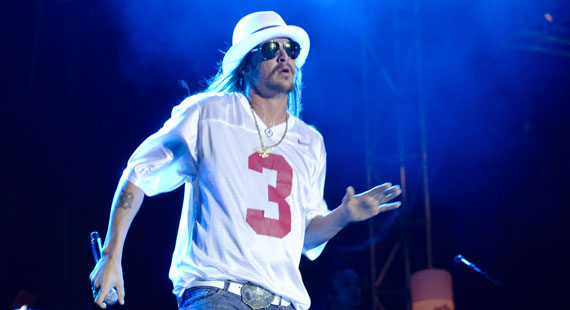 Mark Runyon | ConcertTour.org
In many ways, Kid Rock's 2002 hit single "Picture" was a trend-setting moment for popular music, when many successful veteran musicians saw an opportunity to integrate their sound with country flair. The marketing prowess of country music is clear, with fervent followings in the South and Midwest helping make country music one of the biggest earners in the music industry. While rock consists of various sub-genres and hip-hop generally varies from coast to coast, country music continuously holds a widespread appeal. For artists like Bon Jovi, Aaron Lewis, and Bret Michaels, they viewed the crossover success of "Picture" as a green light to pursue a country-tinged addition to their rock-based roots. The impact of "Picture" on some big names in the industry further affirms Kid Rock's surprising role as an influential figure, a status that would have come across as laughable in the early '90s, when the Michigan native specialized purely in slightly amateur-ish rap-rock and hip-hop.
While the stylistic selection of Kid Rock's early releases remains linear, he has always been a fan of multiple genres. In the mid '90s he released monthly tapes called The Bootleg Series, where he would assemble highlights from independent artists in the Detroit area. They would range in style from hip-hop to rock, and he would tidily place his tracks within the compilations, often sounding like a meshing between the styles presented on there. An ambition to explore new styles and instruments was present early in Kid Rock's career. With his 1993 album The Polyfuze Method, Kid Rock showed a multi-instrumental capacity, after teaching himself to play guitar, drums, and keyboards. This coincided with transitioning to a more polished rap-rock hybrid, as opposed to the elementary straightforward hip-hop of his 1990 debut, Grits Sandwiches for Breakfast. Kid Rock's career generally spans in three parts: the early '90s with direct hip-hop, the mid and late '90s with a hip-hop/rap-rock hybrid, and everything thereafter – which combined his passion for southern rock and hip-hop with commercially appealing country twangs.
By the time his fifth studio album, Cocky, was released in November 2001, Kid Rock was already a recognizable star. His prior release, Devil Without a Cause, in 1998 featured several successful singles in "Bawitdaba", "Cowboy", and "I Am the Bullgod", the latter of which many credit for launching his career into the spotlight. Devil Without a Cause was also the last of his rap-rock releases, as Cocky – and its single "Picture" – would show a new country side of Kid Rock. While many artists attempt some stylistic reconfiguration in the midst of a slump, Kid Rock chose to pursue a more country-oriented route at the peak of his popularity. It was a risky proposition for a fan base steeped in hip-hop and rock influences, though retaining those influences throughout Cocky helped make the transition very seamless, and Cocky into an album that is now certified 5x platinum by the RIAA.
Seeing Kid Rock make this bold stylistic move on Cocky helped inspire several other musicians work on material with a country edge. Jon Bon Jovi began dabbling in writing country songs shortly after the release of Cocky, and by 2007 had produced an album firmly steeped in the style with Lost Highway. Staind's Aaron Lewis did the same in 2011 with his debut solo EP, Town Line, having a firm grip on country. In addition, Bret Michaels was influenced by both Kid Rock's Cocky transition and his own appearance on reality show Nashville Star that Michaels produced a country album, Freedom of Sound, in 2005. While these artists are admirable in tackling new ground late into their careers, the magnitude of risk was not as great as when Kid Rock attempted the switch in 2001. It was a bold, yet ultimately very successful decision that helped him maintain relevance for the next decade. As he continues to mold his sound in various directions, it's hardly surprising that Kid Rock continues to sell out arenas.
Around the Web