KISS, Def Leppard, Poison Fan the Flames of Summer MegaTour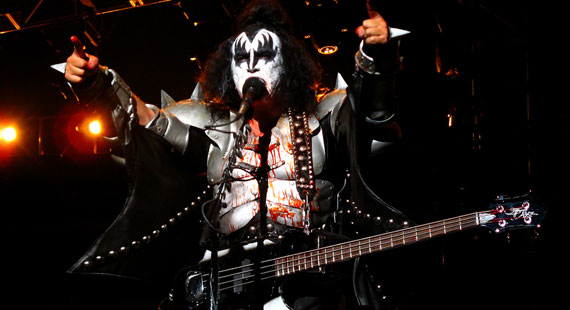 Keith Tarrier | Shutterstock
As if classic rock fans needed any further encouragement, Def Leppard guitarist Vivian Campbell has sort-of hinted that the band may be going on a joint tour with fellow theatrical rockers KISS.
In talking to TicketsThere about possible dates with KISS and Poison, Leppard guitarist Vivian Campbell said, "I'd say you'd be half right there, but only half right and half wrong."
According to the Kansas City Star, Bret Michaels made reference to the possibility of a tour with Def Leppard while onstage last summer, while Poison bassist later Bobby Dall hinted at joint dates with Def Leppard and Kiss this summer during a February interview at NAMM. If this is meant to be a secret, these guys are doing a horrible job of keeping it under wraps.
Since then, however, the band's ridiculously-named drummer, Rikki Rockett, said Poison would not be touring this summer, placing the blame firmly on the shoulders of a bandmate he chose not to identify.
Luckily, fans of the bands shouldn't have to wait too long to find out what on earth is going on, with Campbell saying: "There will be an announcement of our tour imminently, we're talking a matter of days. It has to be announced, because we're almost at summertime."
Def Leppard didn't embark on a proper tour last year following their 'Viva! Hysteria' residency in March and April at Las Vegas, playing only a handful of North American dates. The band will return to Vegas later in 2014, this time to focus on Pyromania.
Campbell, who made his name as part of Dio before joining Def Leppard in the early '90s, did comment that stops in Europe this year were unlikely, though he suggested that it may be possible after the band have completed their next studio effort "Most likely if we get this record finished for next spring that would see us doing a world tour of sorts — whatever that means nowadays."
Around the Web