Leonard Cohen's Impact on Folk Music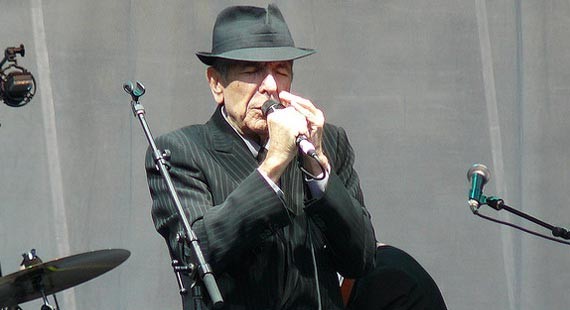 Leonard Cohen's impact on folk music is immeasurable. The longtime singer/songwriter is widely considered to be a poet first, and a musician second – but that's only if you have to choose. Cohen ingeniously combines beautiful folk stylings with lyrics that are emotionally ornate and verbally idiosyncratic enough to be considered poetry. His words inspire scholarly interpretations and full-life retrospectives. Along with Bob Dylan, he is arguably the most influential lyricist in folk music, touching a wide spectrum of artists stylistically and even spiritually. While he is known primarily in the mainstream for his haunting ballad "Hallelujah", and namely its covers by John Cale and Jeff Buckley, Cohen's 12 full-length albums present a breadth of work that touches on every topic imaginable, from love to overcoming grief, from the power of home to the imminence of one's demise. It is such a chock full of content that, again, makes his impact on folk music very difficult to concisely summarize.
Cohen's lyrics and music is often dark and intimate, delivered by a deeply creaky voice that sounds like it emerged from a decade-old whisky bottle. Before he released music, Cohen was a student who achieved average grades in everything but writing. Even as a youth, his grasp of words was well beyond his years. Cohen's interest in music was also present, as he formed a country group called the Buckskin Boys when he studied at McGill. Still, poetry was his first true calling; he released his first book of poetry, Let Us Compare Mythologies, in 1956, a year after he graduated. His follow-up, 1961's The Spice Box of Earth, was a big success, and helped him finance two acclaimed novels, The Favorite Game and Beautiful Losers, in 1963 and 1966, respectively. By the time his love for music took over in the mid '60s, and he released his debut Songs of Leonard Cohen in 1967, Cohen was already an established poet and writer. The lack of pressure and criticism that often surrounded debuting artists was absent for Cohen, and it resulted in a comfortably stream of successful albums from the get-go.
Ever since folk singer Judy Collins pushed Cohen to pursue his love for music, he has been revered as one of folk music's best. The stark production of Songs of Leonard Cohen put his lyrics on full display, and prompted later folk singers to embrace sparseness to emphasize their lyrical tones. The album sold exceedingly well for a folk album of its intimate nature, selling over 100,000 copies in its first two years despite not one radio hit. After releasing another set of poetry in 1968, follow-up Songs from a Room was released in 1969, showcasing Cohen's penchant for sadness. As audiences now expected his descriptive narratives and illustrious wordplay, Cohen used this as an opportunity to touch on bleaker subjects. "Story of Isaac" touched on the exploitative power of the older generation on an often vulnerable youth , while "The Partisan" involved standing up against an oppressive regime that is far too powerful to be topped. Fighting against the impossible was a common theme, and though bold it resulted in a less commercially successful release; many listeners found the concepts too difficult to grasp.
Cohen's other ten albums have their own deliveries and bouts of genius. 1977's Death of a Ladies' Man was a stunning fusion of Phil Spector's wall-of-sound glossy production and Cohen's genius lyricism, which was particularly touching on nostalgia and slow-room dances; visions of Cohen's school days were presented in full form, offering a form of sincerity folk artists are often weary of. It was an odd match, and reviews were relatively polarizing upon release, but it has aged well. Cohen's most recent, 2012's Old Ideas, is very spiritual in its sound and lyrical emphasis – much like his early works. After many decades of writing folk classics, it's an understatement to say he's hugely influential on folk artists of today. Many successes owe it to Cohen for his frankness and intimacy, both in his production and lyrical delivery.
Around the Web