Metallica, Anthrax, Slayer Set to Blister Heavy Montreal Festival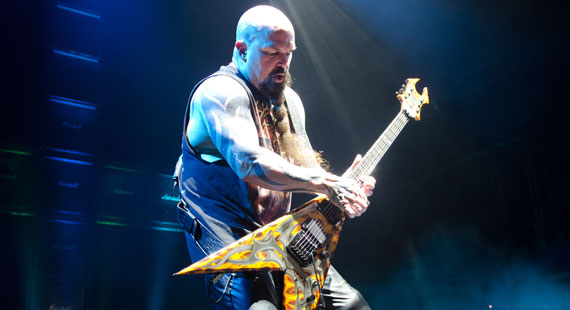 Mark Runyon | ConcertTour.org
Montreal's Heavy Montreal festival has revealed a line up fit for the prince of darkness himself, headed up by Metallica, Slayer, Lamb of God and Anthrax.
This year's festival is set to roll out over the weekend of August 9th-10th at Parc Jean-Drapeau in Montreal. Joining the four metal heavyweights on this year's bill will be Hatebreed, Three Days Grace, The Offspring, Bad Religion, Apocalyptica, Exodus, Overkill, Whitechapel, Unearth, Protest the Hero, Pennywise and many more.
Metallica's headlining stint is set to be part of their 'By Request' series of shows, which allows ticket holders to pick the setlist for the concert. Their Heavy Montreal appearance will be Metallica's only currently scheduled North American show of the summer.
The Heavy Montreal Festival, formerly known as Heavy MTL, is now in its sixth year after launching in 2008 (there was no festival in 2009). Last year's event featured artists such as Megadeth, Avenged Sevenfold, Rob Zombie and Godsmack leading the way. Other past headliners have included Motley Crue, Disturbed, Iron Maiden, Korn, Alice Cooper, Motorhead, KISS, Slipknot, Marilyn Manson, Five Finger Death Punch, System of a Down and Deftones among others.
Says event organizer Nick Farkas: "From its inception in 2008, Heavy MTL was created as a festival that would embrace the heavier side of music, from guitar rock to metal and everything in between. For 2014 we are excited to present a reinvigorated Heavy Montréal. With a brand new look and a programming direction that returns to our roots, 2014 is poised to be Heavy's breakout year."
Commenting on the festival's swanky new logo, Farkas added, "We wanted to have a logo that reflects our roots but that also celebrates Montreal and its landmarks. The logo also represents our desire to be more inclusive. We are very happy with the result."
Around the Web