Music's Best Mugshots: Musicians In Trouble With the Law
Few things are more embarrassing than a mugshot. Getting caught by the law is painful enough, and to have instantaneous photographic evidence of that moment seems cruel – even if its purpose is clear and entirely makes sense. The embarrassment is even worse and widespread for celebrities, whose mugshots adorn the pages of many web sites whose sheer objective is to dig through the millions of publicly available mugshots, only to find the best of the best. Mugshots have been around since the Wild West days, but only recently with the internet can anyone access a mugshot of anyone with a few clicks. The party-bound stereotypes of a musician and entertainment bigwigs are often true, and they result in many mugshots of titans in the music industry: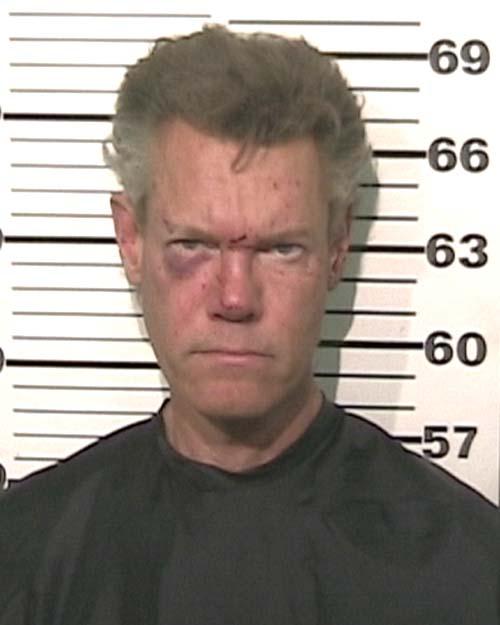 Randy Travis
Even most convicted felons don't look as menacing as country star Randy Travis in his two mugshots, one in Feburary 2012 for public intoxication and another that August for driving while intoxicated and threatening law enforcement officers. The Grammy winner seems a lot more upset in the second picture, with a scowl complementing a cut between his eye. He seems more like a friendly belligerent drunk in the February mugshot, as opposed to the crazy-eyed serial killer pose in August.

Willie Nelson
Do you even need to ask what folk legend Willie Nelson was charged for? Nelson was arrested in November 2010 after officers found six ounces of marijuana on his tour bus. The folk singer-songwriter, long known for his free-flying toking ways, looks nonchalant and disinterested in his mugshot. It seems like a frequent nuisance for Nelson. Searching Nelson's bus is like searching Snoop Dogg's house; everyone knows there's some of the best weed in the world in there.
Bruno Mars
Contrary to Randy Travis' menacing scowl, Bruno Mars took a mugshot that looks like a high school graduation picture, youthful and chipper. Police arrested Bruno Mars, his real name Peter Hernandez, in September 2010 with possession of narcotics. He pleaded guilty in Feburary 2011 to a felony cocaine possession, and was put on probation for one year. He at least seemed optimistic in his mugshot, or maybe the cocaine didn't wear off yet.
Phil Spector
In the span of two months, from April 2009 to June, Phil Spector made some major renovations to his hair. The unnatural zombie-haired wig he was sporting in April evolved to a bald sort of skeletal creepiness, and everyone got to see Spector wig-less. We know this because Spector was photographed both those times, in February for the second-degree murder of Lana Clarkson and then again in June for another booking session after state prison regulations said no to the wig shot.
Akon
When you get arrested do it in style. At least that seemed Akon's motto in December 2007, when he snapped a mugshot after pleading not guilty to a misdemeanor of endangering the welfare of a child. This occurred after he threw a 15-year-old fan off the stage at a live performance, after the boy allegedly threw something at Akon. Whatever childish action ensued, Akon dressed fairly classy for his appearance, with a suit and tie.
P. Diddy
"Deer in headlights" describes Diddy's expression in a December 1999 mugshot, when he was arrested by the NYPD and chaged with possession of a firearm after a shooting at a Manhattan nightclub. Police found a gun under the seat of his Lincoln Navigator, which he was sharing with then-girlfriend Jennifer Lopez. He was found not guilty in March 2001.
Ozzy Osbourne
The big question with arrested Ozzy Osbourne for public intoxication is, how can the officers tell the difference between intoxicated Ozzie and normal Ozzie? Isn't he at the point of perpetual intoxication? Though it seems like part of his personality, he snapped this mugshot after being arrested by Memphis cops in May 1984. He was "staggering drunk" by most accounts, and probably still is.
Frankie Valli
Classic pop singer Frankie Valli played tyrannical mobster Rusty Millio in The Sopranos, but has witnessed very little real life crime. That is apart from a mugshot from September 1965, when Valli was arrested when his manager did not pay a hotel bill in a neighboring town. Talk about bad luck. Still, Valli was able to play a convincing mobster, and is probably happy his real life doesn't align with those mugshot-bound ways of life.
David Bowie
Bowie even looks stylish in his March 1976 mugshot, when he was arrested for marijuana possession. He stares stoically, stands up straight, and his piercing eyes must have convinced cops to let him go? He was held for a few hours and then released; the mugshot was taken three days after his arrest, at arraignment.
All mug shot images courtesy of the Smoking Gun
Around the Web