Panic! at the Disco Find the Gospel on Upcoming Summer Tour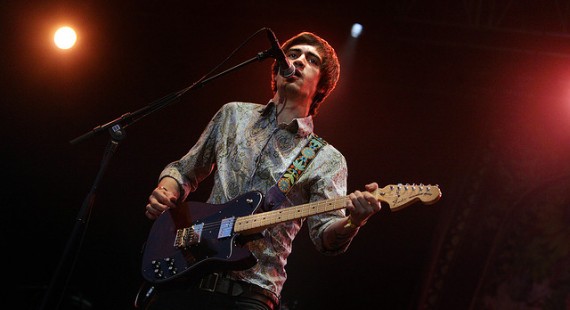 Panic! At The Disco have just revealed that they're set to embark on what they're calling their biggest band outing ever. The Gospel tour will kick off on July 18th in Magna, Utah and features support from Walk The Moon, Youngblood Hawke and Magic Man on select dates.
After the Magna show, the tour will hit a plethora of cities, including Chicago, Cleveland, Boston, New York, Toronto, Philadelphia, Atlanta, Austin and San Diego, among others, before wrapping up on August 28th in San Jose.
The tour will be in support of the band's most recent studio effort, Too Weird To Live, Too Rare To Die!, which was released in October of last year.
The band recently spoke to Billboard about life on the road, with frontman Brendon Urie saying "getting along with people on tour is one of the more important things," adding, "Our crew and us, we get along really well. We're all the same degenerates, so it works out."
He also spoke about the difficulties of touring, and how social media has made connecting with fans, friends and family that bit easier.
"Technology is almost everything on tour," Urie says. "With social media it's really nice, before and after the show, to get a reaction from fans and to be able to talk to them."
Too Weird to Live, Too Rare to Die! is Panic! at the Disco's second No. 2 album on the US Billboard 200, selling 84,000 copies in its first week alone. Though recorded as a three-piece, the album was produced by Butch Walker, and is the first to feature bass guitarist Dallon Weekes, who initially joined the band in 2009 as its touring bassist, presumably because he too had an affinity for exclamation marks. Or maybe just because he was a good bassist. We'll probably never know.
Around the Web