How Did Phish Become So Popular?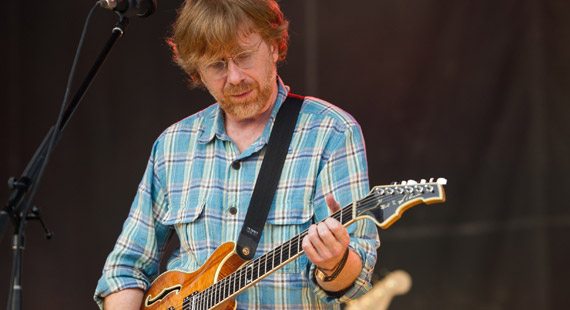 Mark Runyon | ConcertTour.org
For those few among you who are trying to work out why no-one's spotted the typo in the headline of this article, I can promise you that Phish are far from some mangled aquatic misspelling. Phish, who've been around for over thirty years, are one of the bands who seem to hold fans in a trance. They're stalked around the country (sometimes the world) by aficionados following them on tour, and, with no hits on the radio, found their fame entirely through the Phish-sanctioned exchanging of bootlegged tapes in the eighties. An underground success story with some populist overtones, a lot of people seem baffled as to why this four-piece, who hail from Vermont, have acquired such a cult status in modern music. Still confused? Let's go Phishing.
They've often been compared to the Grateful Dead in terms of their place in popular culture and their laid-back-yet-rabid fanbase, and this isn't an entirely inaccurate assessment. There's a sense of community between Phish fans that's rarely found anywhere else in the music industry and, thanks to their wildly broad musical stylings, there's very likely something for everyone buried somewhere in their thirteen albums (and Wingsuit, their fourteenth LP which is due out later this year). Many people also believe that the disbanding of Grateful Dead in 1995 and the rise of Phish were not disconnected, as people were looking to fill the void left by the death of Jerry Garcia with another psychedelic jam band.
It's pretty difficult to settle on one genre that Phish fall into. In fact, it's nigh-on impossible, thanks to the eclectic mix of jazz, psychedelia, rock, funk, bluegrass, a capella, and reggae that inhabits their totally original albums. They've constantly been referred to as a "jam band"—that is to say, a band that's based around the idea of extended songs and riffing off existing beats and melodies to create a slightly different experience every time the song is played. There's a really distinctive feeling that radiates off any number of Phish's numerous compositions. There's often an atonal edge, matched with a rich, full, sustain-heavy electric guitar (thanks to Anastasio), while many of their layered and complicated pieces have a real sense of something orchestral about them. Many people who came for one style of music found themselves sticking around to listen to genres they were never interested in before, with many old-school fans crediting Phish with introducing them to a larger world of music. The lyrics, too, are also worth a mention—Tom Marshall, a biologist, acted as the primary lyricist for Phish for a number of years, connecting a strange mix of witty, intelligent, moving and downright bizarre turns of phrase together to match their eclectic style of music.
As you can probably tell, a lot of Phish's appeal lies in their straight-up novelty value. They're renowned for their live shows that rock the boat and generally cause a lot of eyebrows to start shooting around, with bizarre costumes made of food, and one memorable show where the band bounced on trampolines as they played. They always embraced the strangeness of their music and their slightly off center place in the music world. This feeling comes through in all of their live shows (and often in their fanbase too).
When it comes right down to it, it's very difficult to give a concise, three-point answer as to why Phish have been and still are this popular, but a lot of it comes down, gratifyingly, to their music. While their vocals and lyrics may not have been ground-breaking or memorable, their music meshed together a huge variety of genres and styles into one, cohesive sound. This is thanks in no small part to the sheer musicality of Phish and the amount of time they poured into their art—even living together for a while to get a better sense of how they all worked together as a band. And that's really what's carried them through three decades and surviving numerous fads. These are four men who play very interesting music very, very well. And that's really what all great music comes down to.
Around the Web