Phish Camp Out in Major Markets on U.S. Tour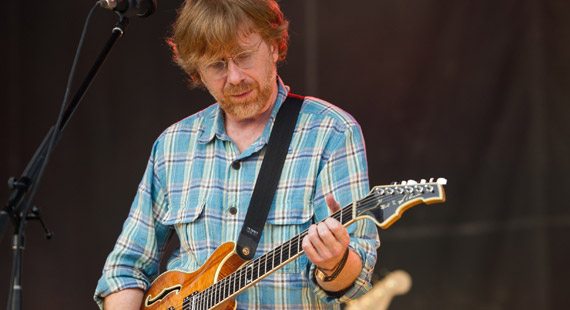 Mark Runyon | ConcertTour.org
Rock veterans Phish have decided to embark on a concert tour, complete with multiple residencies (presumably so they can actually unpack their suitcases for a change) across the continental US this summer.
And, indeed, Phish demonstrate that, three decades into your career, you don't need anything to support in order to go on tour, unless of course the band decide to release, Wingsuit, the unrecorded album the group performed at their Halloween gig in Atlantic City, New Jersey last year.
The band's first 2014 performance will come at New Orleans Jazz and Heritage Festival on April 26th, but this tour kicks off in earnest on July 1st in Mansfield, Massachusetts, and will see the band plan multiple residencies in major markets, including Philadelphia; New York; Chicago; Columbia; Portsmouth, Virginia and Commerce City, Colorado, where the tour will wrap up on August 31st.
Phish frontman Trey Anastasio last year told Rolling Stone that the band tours mainly during the summer months because it best suits the band and their families. "The whole gang goes on tour, so there's maybe 10 kids," he said. "It's like a big caravan, and we all go out in the summer because right now that's what works for us. It's really fun – everybody's backstage."
He also spoke about the importance of audience interaction at any show:
"Live music is kind of gold dust, in a way. You walk out there, it only happens once. You can record it, but that's a different experience. If you listen to a recording of the concert, it's not the concert. So you walk onstage and there's these people standing there, and you can smell them and see them and make eye contact with them, and it's pretty intimate. I know people say this, but I'm really saying it after 30 years: whatever state the audience is in on a given night absolutely, completely affects where the show goes."
Phish have sold over 8 million albums and DVDs in the United States over the course of their 30 year career, and maintain a rabid fanbase who treat them like the second coming of the Grateful Dead.
Around the Web