So Who is Playing CMA Festival 2014? We Have the Answer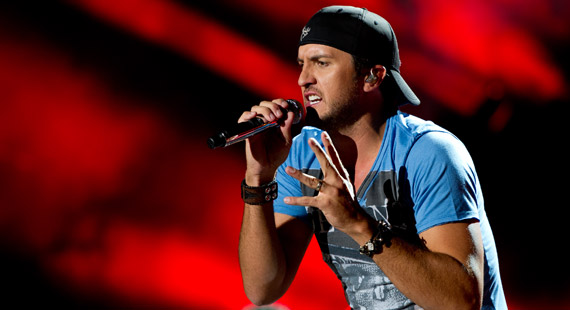 Mark Runyon | ConcertTour.org
We find ourselves in the thick of the festival announcement season. All the summer festivals are busy getting out their lineups in an effort to ramp up ticket sales as the fans sit in cold houses, dreaming of heat waves and nights spend swaying to the music.
For country music, there is no better festival each year than the CMA Fest. The annual event takes over downtown Nashville for the better part of a week and hosts a variety of events during the day as the biggest starts in country music take over the Tennessee Titans' LP Field each night for a decadent affair of the best country has to offer. There are more huge surprise artists that just show up each night to jam than most festivals can claim among their headliners. CMA Fest is an event to say thanks to the fans, and of the countless festivals ConcertTour.org has covered in the past it is hands down our favorite event.
Needless to say, we were as intrigued as anyone to find out who would be on the 2014 festival bill. The CMA organizers have taken to social media to tease out clues to which artists will be in attendance. Instead of making you play hopscotch around all of their various social media accounts and rack your brain trying to decipher the clues, we thought we'd help out by pulling them all together into a comprehensive list and giving our best stab at an answer. We'll be updating the list each day with new clues and answers until we hit the final big lineup reveal on March 12 so bookmark this page and follow along. For those who don't have the patience to sift through all of these clues, we'll be updating our CMA page daily with the latest artists. Without further ado–
Clue 16 on Facebook: Ex-Atlanta Braves catcher Brian McCann sporting a Jason hockey mask
Best Guess > Jason Aldean
Why > This clue is a little cludgy, but its clearly Aldean. The Jason mask tells us its a Jason and Aldean hails from Georgia (a little South of Atlanta in Macon). I wonder if new girlfriend Brittany Kerr will be joining him?
Clue 16 on Twitter: An empty birdcage
Best Guess > Zac Brown Band
Why > Well the biggest giveaway is the graphic on ow.ly is labeled ZBB.jpg. Sure Uncaged is Zac Brown's latest album, but you can't telegraph the file name like that. It takes all the fun out of it.
#CMAFestGuess No. 16. http://t.co/H65mZLbclS Clues also on FB & IG right now! Official reveal of LP Field lineup- tomorrow at 10am CT on FB.

— Country Music Assoc. (@CountryMusic) March 18, 2014
Clue 15 on Instagram: Series of "sounds like" graphics
Best Guess > Lady Antebellum
Why > Not sure where 14 went or why there are two 16s for that matter, but we'll go with it. No question, Lady Antebellum will be in attendance at CMA 2014. Lei + D + Ant + eh + Bell + umm. This one was ridiculously easy.

Clue 13 on Twitter: Array of pictures of flowers, birds and trees separated by a dotted line
Best Guess > Florida Georgia Line
Why > That dotted line gives it away, but if we dig deeper the state bird of Georgia is the brown thrasher and Florida's is the Northern Mockingbird — check, check. The state tree of Florida is the Cabbage Palmetto and Georgia's is the live oak — check, check. Need I go further.
#CMAFestGuess Number 13. Two more on Instagram tomorrow! http://t.co/RXXAy9QCxM

— Country Music Assoc. (@CountryMusic) March 17, 2014
Clue 12 on Twitter: Quote from the Outsiders: "Stay Gold Ponyboy"
Best Guess > Eric Church
Why > Get out your wiffle ball bats again. Eric Church's lastest album is The Outsiders so a quote by a movie of the same name kinda gives it away. Great film for your Netflix queue for those who haven't checked it out. Tom Cruise, Rob Lowe, Matt Dillon, Patrick Swayze, Emilio Estevez, Ralph Macchio, Diane Lane and even Tom Waits — largely before all of them were marquee Hollywood stars.
#CMAFestGuess Clue No. 12: "Stay gold, Ponyboy." Only three clues left until the #CMAFestGuess Reveal!

— Country Music Assoc. (@CountryMusic) March 14, 2014
Clue 11 on Facebook: Text Exchange About a Guy and His Girl About Going Fishing
Best Guess > Brad Paisley
Why > So we took the bait a couple days ago when we thought the two CMA Awards statues in pink and cameo meant Brad and Carrie were joining the fun. Today's clue negated that theory. On Facebook, CMA posted a text exchange where a guy passes on lunch with his sweetie to go fishing. He comes back to find she's not answering texts. So clearly Brad Paisley's "I'm Gonna Miss Her (The Fishin' Song)." Maybe he'll bring Charlie Daniels along with him again.
Clue 10 on Instagram: The Oregon Trail Video Game
Best Guess > Darius Rucker
Why > Well once you kick off the video for the Oregon Trail, it asks you to select the number of wagon wheels. Darius Rucker's latest hit just happens to be "Wagon Wheel." Book Darius for CMA.

Clue 8 & 9 on Facebook: Two CMA Throphies — One in Cameo, One in Pink
Best Guess > Blake Shelton & Miranda Lambert
Why > After serving up a wiffle ball yesterday, today's double dose of clues get significantly harder. The cameo and pink seem to signal a man & woman duo. While Blake and Miranda would be a fair guess, my money is on Brad Paisley and Carrie Underwood since they are the perennial hosts of the CMA Awards extravaganza.
Ha, CMA threw us a curve after all. Clue 11 was clearly revealed to be Brad Paisley so he can't be in Clue 8. Welcome to the party Miranda Lambert & Blake Shelton. I think a duet or two may be in order?
Clue 7 on Instagram: Photo of a BLT
Best Guess > Little Big Town
Why > This one was pretty easy. The sandwich sits suspended in midair with all the toppings isolated. First comes lettuce followed by bacon and tomato. So BLT becomes LBT. So far we've almost got a mirror image of CMA Fest 2013. Where is the new blood?

Clue 6 on Twitter: Thunder Locomotive
Best Guess > Hunter Hayes
Why > Hunter delivered a surprise midday set at the Riverfront Stage during last year's CMA Fest under the moniker Thunder Locomotive. Its safe to say country music's hottest sensation will be in attendance for 2014.
#CMAFestGuess Clue No. 6: AKA Thunder Locomotive

— Country Music Assoc. (@CountryMusic) March 7, 2014
Clue 5 on Facebook: So Young
Best Guess > Keith Urban
Why > They put 'you' in a song of course. Go head and book that Aussie to the bill.
Clue 4 on Instagram : 74 set against purple and yellow
Best Guess > Tim McGraw
Why > Ah…it seems to couple McGraw's acting work in The Blind Side with Michael Oher number and team colors with the Baltimore Ravens (should I mention he probably won't be a Raven for much longer). This connection is shaky at best, but McGraw at CMA isn't a stretch at all (he showed up just to play a couple songs with Taylor last year). Not to mention, I haven't heard another plausible guess.

Clue 3 on Vine : Cycling through a series of Photos
Best Guess > The Band Perry
Why > This one was obvious. The pictures are all of famous Perrys — Luke Perry, Katy Perry, Matthew Perry, The Refrigerator Perry, you get the drift. Lock 'em into the lineup.

Clue 2 on Twitter : "Dear Darla, I hate your stinking guts. You make me vomit. You're scum between my toes!"
Best Guess > Rascal Flatts
Why > The quote is from The Little Rascals — Alfalfa to Darla. Little Rascals to Rascal Flatts isn't a huge leap. It will be good to see the boys back at CMA.
"Dear Darla, I hate your stinking guts. You make me vomit. You're scum between my toes!" #CMAFestGuess No. 2. Clue 3 comes TODAY in a tweet!

— Country Music Assoc. (@CountryMusic) March 4, 2014
Clue 1 on Facebook : a Bulldog with a Lightsaber
Best Guess > Luke Bryan
Why > The University of Georgia mascot comes to play here with the bulldog so that should group together the Georgia artists — Jason Aldean, Thomas Rhett, Luke Bryan. The lightsaber seems to hint at Luke Skywalker so we back our way into Luke Bryan. Pretty solid guess I'd say.
Around the Web