Prince is Playing Secret Shows in London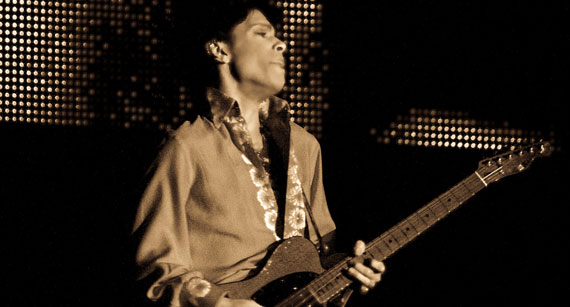 The last time Prince played in London, it was during a 21-night residency at The O2 arena. Not small a affair.
Seven years later and the iconic popstar has found himself in a number of altogether more intimate settings, such as the Electric Ballroom in Camden, playing to an audience of only 300.
He announced that he plans to play a string of dates in London in support of his forthcoming album Plectrum Electrum, which he recorded with (in typical Prince fashion) all-female trio 3RDEYEGIRL.
The first show took place in Camden's Electric Ballroom just last night, and lasted only 30 minutes. Queues began forming outside the Camden venue following speculation about a surprise performance, and Prince arrived on stage with 3RDEYEGIRL at 12:30am.
As the gig came to a close, Prince told the crowd he would be back at the club tonight — "a lot earlier and a lot funkier".
Sources have offered two different venue options, which are on hold for tonight, with the singer to make a decision at the last minute.
Earlier in the day, the mighty purple one visited the Hackney home of soul singer Lianne La Havas, where he unveiled details of the Hit And Run tour. He revealed he plans to play "iconic" venues, adding: "We'll work our way up, if people like us, to bigger venues."
No word yet on where the next shows in the tour will take place, but Prince has described it as "open-ended", adding "We're going to be here until people don't want to hear us any more."
He chose the home of La Havas for the announcement after meeting her when she toured the US last year.
Speaking about his new backing band, Prince added, "We've been together for over a year and it's perfect. The more we play, the more fun it is, and addictive it is."
London folk: watch the skies.
Around the Web