Review: Alice in Chains, Limp Bizkit, Deftones at Carolina Rebellion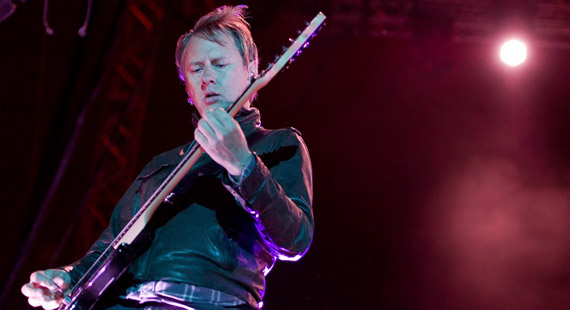 Mark Runyon | ConcertTour.org
What a difference a year makes. This weekend last year, I was sweating my balls off in Memphis, taking in the bevy of acts at Beale Street Music Festival. Last night, I was freezing my nips off at Charlotte Motor Speedway. I wasn't watching the stock cars endlessly circle the Nascar track. I was here for Charlotte's preeminent rock festival, Carolina Rebellion.
In talking to festival goers who were frequent Rebelers, last year the temps boiled over much like they did 620 miles away. Yesterday, the cloud cover rolled in and threatened rain throughout the day. The wind kicked up and pushed those "feel like" temperatures down into the low-50s. The masses, outfitted out in shorts and t-shirts, didn't quite have this in mind when they penciled Carolina Rebellion on their calendar to start the summer festival season.
Carolina Rebellion is being held not exactly at the Speedway, but rather across the street behind the parking area. They've cordoned off the festival grounds and setup two massive stages on each end of the L as well as a smaller Jagermeister side stage. There was an embarrassment of riches packed within this line-up. We started off our day with rising talents of Halestorm, took in some of the last decades favorites with Three Days Grace and Papa Roach and we even got to see Disturbed frontman David Draiman with his side project Device on the lowly side stage. If you love rock music, Carolina Rebellion made this weekend a 'sell the savings bonds you're grandma gave you when you were eight'- type event.
While I'd greatly enjoy chronicling the unique stylings of Welch group Bullet for My Valentine or count the ways I loved Halestorm's frontwoman Lizzy Hale, there is only so much time before we have to get back over to the Speedway for day two of our coverage. That means today we'll focus our festival review on the three main acts – Alice in Chains, Limp Bizkit, Deftones – and dovetail back around to these other highly deserving bands in our Carolina Rebellion wrap-up review set to publish mid-week.
When I heard Deftones was playing second fiddle to Limp Bizkit, I was a bit baffled. I mean what has Fred Durst and crew done since their 90s heyday besides Durst being a douchebag. We'll get to Fred and feminine hygiene in a minute. The Deftones were an institution at the festival. Papa Roach's lead singer Jacoby Shaddix said that when he first started listening to the band as a teen, he knew they were making the kind of music that would become his life. Metal heads Bullet for My Valentine couldn't believe the Deftones were here, and the Deftones were still three timeslots away. It's not hard to spot the tattoo the Sacramento group has burned onto all the groups that came after them. Chino Moreno and the boys were quite the elder statesmen as they took the stage.
There was only an hour for the music so they sunk their teeth into the set. Moreno hit the stage with his patented soul patch and leather jacket shortly before unzipping it to revel his Joy Division t-shirt below. No worries. No mopy music followed him onstage. Instead, he brandished his trademarked intensity, mounting the riser and racing about the stage. The wrinkles of age have started to set into his face, but the band's music sounds as fresh as it did when they put the world on notice of music's coming change in 1988.
Stephen Carpenter and Sergio Vega anchored each end of the stage. Carpenter's long mane of hair swirled about his face as he tamed the wild guitar. Vega bounced about the stage with crazy abandon. The best word to define the Deftones set is intensity. You can tell they take this shit seriously. They are channeling the music and through Moreno's tortured facial expressions the notes are squeezed out into the open air. These boys put on a damn impressive live set.
On to perennial whipping boy Fred Durst and Limp Bizkit. It's been ten years since he professed to dating Britney Spears and did the unthinkable MTV duet with Christina Aguilera. Talk about wiping your ass with your street cred and flushing down the commode. Soon after, Limp Bizkit went on a welcomed hiatus, and Durst devoted himself to indie films. The Bizkit rounded up the boys in 2009, and here we are.
Well you can't say Limp Bizkit doesn't put on an interesting show. Guitarist Wes Borland was covered in black body paint from head to toe with a mask straight out of Eyes Wide Shut (check him out under the photo tab above). The man is the mastermind behind the band's sonic experimentation so if he wanted to hit the stage in a tutu, I don't think his mates would exactly put up too much of a protest. Fred and Sam Rivers wore hoodie sweatshirts that looked like they were some kind of workout, Christmas sweaters. Curious attire aside, Limp Bizkit was here to show you why they've sold 40 million record around the globe.
Durst launched right into "Rollin'," and the audience was instantly flung into the beat. Durst's goal seemed to be to get Carolina Rebellion off. There would be no ebb and flow here. The set was locked in to full throttle to the final note. The band rolled through hits like "Nookie," "Break Stuff" and "My Generation." They leaned on the catalogs of their musical heroes serving up The Who's "Behind Blue Eyes," Ministry's "Thieves" as well as Rage Against the Machine's "Killing in the Name."
The set was definitely a high energy affair. Durst came down off the stage to mingle with the masses for a while. The audience loved him, and there should be no question that Limp Bizkit is back.
Alice in Chains closed our evening. I have to admit that I haven't kept up with AIC since they brought on new vocalist William DuVall when the band reformed in 2005. I was a child of grunge so Layne Staley and Alice in Chains was a rotational staple in my formative years. Much to my surprise, DuVall hauntingly similar to Staley. The inflection of his voice definitely betrays your ears, and he more than capable of performing the old staples.
The rest of your AIC favorites were here from Jerry Cantrell and Mike Inez to Sean Kinney. Cantrell's signature long locks are a thing of the past, and they all look older, but they still rocked Carolina Rebellion like it was a dark, dank club in Seattle during the early-90s. The band is touring behind their upcoming release The Devil Put the Dinosaurs Here that releases May 28. They gave us an advanced taste of the new work, performing tracks "Hollow" and "Stone" for the audience's enjoyment. From this advanced look, I think the Alice in Chains faithful will be very happy with the direction the band is taking.
The band clearly recognized that a good chunk of the crowd was packing the stage to hear their 90s hits. They didn't disappoint, performing a trio of favorites – "No Excuses," "Rooster" and "Man in the Box" – to end the evening. The band sounds sharp, and they are doing the Alice in Chains legacy proud. They'll never top the legend they were with Layne Staley, but that's ok. They're comfortable with who they are, and their place in rock's landscape.
So that wraps our coverage of Saturday's music from Carolina Rebellion. Today, we take on rock heavyweights of Bush, Rise Against and Soundgarden assuming the rain doesn't completely wash us away. Mud here we come. Check back with us tomorrow as we continue our Carolina Rebellion coverage from Charlotte.
[slideshow gallery_id="13″]
Limp Bizkit Carolina Rebellion Setlist
Charlotte, NC : May 4, 2013
1) Rollin' (Air Raid Vehicle)
2) The Truth
3) Hot Dog
4) My Generation
5) Livin' It Up
6) My Way
7) Re-Arranged
8) Killing in the Name (Rage Against the Machine)
9) Thieves (Ministry)
10) Nookie
11) Behind Blue Eyes (The Who)
12) Break Stuff
Alice in Chains Carolina Rebellion Setlist
Charlotte, NC : May 4, 2013
1) Them Bones
2) Dam That River
3) We Die Young
4) Hollow
5) Check My Brain
6) Again
7) Down in a Hole
8) Got Me Wrong
9) Stone
10) No Excuses
11) Rooster
12) Man in the Box
13) Would?
Around the Web