Sarah McLachlan Prepares to 'Shine On' With Summer Tour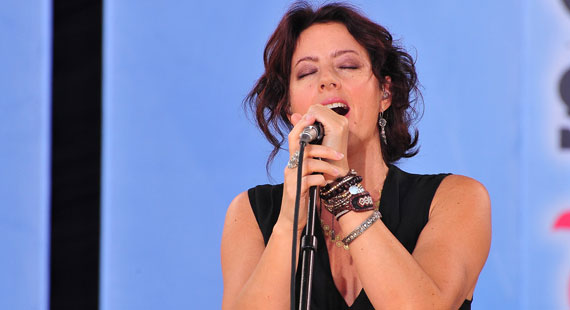 Sarah McLachlan is set to hit the road this summer in support of his first new material in four years, Shine On, which is due for release on May 6th.
McLachlan's tour will kick off on June 22nd in Portland, and sees the singer-songwriter make stops in Santa Barbara, Los Angeles, Denver, Chicago, Detroit, Boston, New York, Philadelphia, Nashville, Atlanta, New Orleans and Austin before wrapping up on August 3rd in Dallas.
Shine On is the first album from Sarah since 2010′s critically-acclaimed Laws of Illusion, and it's her 8th studio album to date. It will also be her first release on new label Verve Records after Sarah parted ways with her long-time label Nettwerk/Arista. It was recorded in Vancouver with longtime collaborator/producer Pierre Marchand (the co-writer of hits like "Adia" and "Building a Mystery"), along with contributions from producer/songwriter Bob Rock (Michael Bublé, Nelly Furtado) and keyboardist Vincent Jones.
In a press release, McLachlan revealed that the album was inspired by the death of her father and her new-found appreciation for the value of life:
"This album is about moving through the second half of my life in a more mindful and meaningful way, recognizing that every day, every moment is precious and though we all have our issues and problems, our damages, we all have the ability to continue to learn, grow from our experiences, thrive and shine on. Many of the songs are inspired at least partially or wholly by my father's passing three years ago and the profound effect losing him had on me. I had to find my footing again without the anchor of his unconditional love."
McLachlan has sold more than 40 million albums sold worldwide and is an eight-time Juno Award winner (Canada) and a three-time Grammy Award winner.
Around the Web