How Soon Is Cancelled? Morrissey Announces 2014 Tour Dates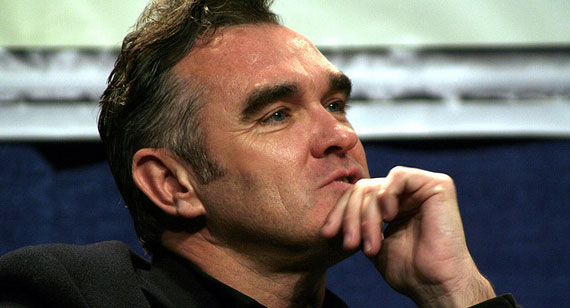 After a period of poor health forced Morrissey to cancel a string of both South and North American tour dates last year, the Mozfather is set to return to the states this year for a tour.
The British icon kicks off the trek on May 7th in San Jose, followed by a May 10th show at the Los Angeles Sports Arena, eventually wrapping up on June 21st in Brooklyn at the Barclays Center. In between are more than 20 dates in cities ranging from Denver to Nashville to Boston.
For two of the dates, Morrissey has enlisted both Tom Jones (!) in Los Angeles and Cliff Richard (!) in Brooklyn. Frequent tour mate Kristeen Young, a singer-keyboardist from St. Louis, will open all dates.
YES, you read that right. Morrissey and Cliff Richard and Tom Jones i.e. the best party ever, or if not the best, the weirdest.
"Everyone knows how much I hate Morrissey," Richard said on Twitter, jokingly. "But you should see the size of the f*cking cheque he waved in my face!"
A bleeding ulcer, double pneumonia and a case of Barrett's esophagus called time on Morrissey's North American tour last year, and he famously released his bestselling autobiography.
The pairing of Morrissey and Richard has provoked disbelief from some, with Richard being a vocal British royal family supporter and Morrissey being equally vocal about his anti-monarchist views.
In fact, the former Smiths frontman recently wrote a letter criticizing Princes William and Harry for a recent hunting trip.
The Duke of Cambridge also received some criticism from Morrissey for going shooting in Spain on the day before he launched United For Wildlife, a campaign to end the illegal hunting of animals.
As well as calling William a "thickwit", Morrissey ended his letter by saying: "We can only pray to God that their hunting guns backfire in their faces."
Classic Morrissey, then.
Around the Web