Tegan & Sara Get Their Tour On Before Katy Perry Trek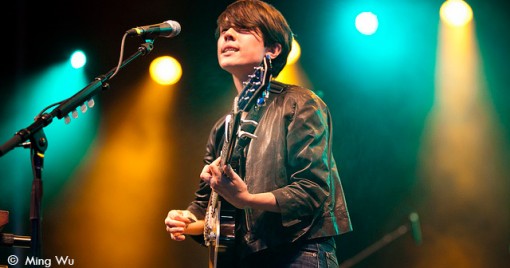 Before they join up with Katy Perry's Prismatic Tour in September, Tegan and Sara are set to spearhead their own headlining tour across the US and Canada, including a five-day holiday amongst the palm trees in the Bahamas on Paramore's Parahoy cruise. The jaunt closes with a slot at Washington's Sasquatch Music Festival in July.
The Let's Make Things Physical tour is set to shove off in Nanaimo, Canada on March 3rd, and will see the siblings make stops in Tampa, Toronto, Nashville, Atlanta, Chicago and New York, among other places, wrapping up at Sasquatch on July 6th.
Support is due to come from Lucius, The Courtneys, and My Midnight Heart at varying stops along the tour.
The duo will be touring behind their latest studio full length, Heartthrob, which was released in January of last year. It's the pair's seventh studio album and debuted at number 3 on the Billboard 200 chart, selling 49,000 copies in its first week and securing the band's highest chart position to date. It was also the first Tegan and Sara record to chart in New Zealand, the UK and Ireland.
More recently, in what must surely be one of the finest collaboration ideas of all time, Tegan and Sara teamed up with The Lonely Island and film composer Mark Mothersbaugh to write and record "Everything Is Awesome" for The LEGO Movie.
Sara Quin (of Tegan and Sara) told Billboard, "We want to be a 'serious' musical band, while also being funny people. But this was so adorable, and the movie looked great, and the opportunity to do something with Mark Mothersbaugh and the Lonely Island… it was sort of a no-brainer, and it's turned out to be this really cool moment. We feel like it was a win-win." Let's hope they play that on tour or I want my money back.
Around the Web