Ten Best Concept Albums Ever Made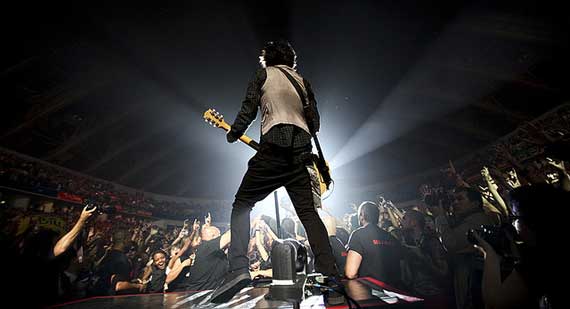 Concept albums are very nearly a dirty word in modern music. Written off as either overtly pretentious tripe with some not-so-hidden agenda or self-indulgent prance through the authors psyche, there's little room for them on most CD shelves (or, more realistically, iPod playlists). But what of the forgotten gems? That is to say, what of the concept albums that were actually—whisper it—good? I've compiled a list of the best ever concept albums—pretension and all.
10. American Idiot – Green Day
The first concept album I ever heard was one I received for my tenth birthday—a raw, ripping tirade riddled with great punk guitar riffs and lyrics that erred on the right side of clever. An album following the metaphorical Jesus of Suburbia through the depleted horrors of modern America, it led thousands of teenagers up in arms. Until 21st Century Breakdown came out, that is.
9. Tommy – The Who
While many might pick Quadrophenia as The Who's finest foray into conceptual territory, there's something to be said for Tommy—a loosely tied-together tale of the eponymous deaf, dumb and blind kid (who sure plays a me-e-e-ean pinball). It's one of those rare albums where every song works equally as well on it's own as it does as part of a whole, and the whole thing's just a magnificent slice of uninhibited late-sixties rock.
8. The Rise and Fall of Ziggy Stardust and the Spiders from Mars – David Bowie
No list of concept albums would ever be complete without this utter masterpiece from Bowie. At it's core, it's completely ridiculous. Bowie prances around singing about little men from space in tight trousers. But his ethereal voice and charismatic delivery sear throughout this celestial magnum opus—a salute to ambition and carrying it off.
7. Danger Days: The Life and Times of the Fabulous Killjoys – My Chemical Romance
If we're discussing actual concept albums, what would turn out to be MCR's last full album acts as a far more cohesive whole than The Black Parade. A modern glam-rock saga, it follows the Fabulous Killjoys across a dystopian future with guns, cars, sex and a lot of synthy dance numbers. A guilty pleasure that shouldn't be.
6. The Defamation of Strickland Banks – Plan B
After producing what was essentially a run-of-the-mill hip-hop album, British rapper Ben Drew rose from the ashes to international acclaim for his superb sophomore album. Polished, clever, and passionate, it follows fictional rapper Strickland Bank's fall from grace, and lays claim to one of the best singles of the year in the form of swing-rap number "She Said."
5. The ArchAndroid – Janelle Monae
This is, delightfully, not the kind of album you'd expect from a pretty girl with a great voice. Monae took hold of utopian concept with both hands in this two-suite symphony; a mixture of funk, pop, rock, rap and dance, there's everything to like about this powerful and confident futurist piece. And what's even more sickening? This was her first album. Too talented for her own good, that woman.
4. Leviathian – Mastodon
An album based on Moby-Dick? Um, yes please. This incredible piece is more than just a slice of slightly clever metal. It's a rich, intelligent dissection of the themes of the book surrounded by an amazing and cohesive score, displaying the always-interesting Mastodon at the height of their powers. Pretentious? You're damn right. And all the better for it.
3. Scenes from a Memory – Dream Theater
To describe Dream Theater as a metal band would be to do them somewhat of a disservice, particularly when it comes to this album. Scenes from a Memory is an eclectic mix of instruments, styles and time signatures. At heart, it's an incredibly ambient album that's nonetheless one of the most fascinating (and symphonic) collections put to paper in the last twenty years.
2. Resistance – Muse
While some might argue over whether this is Muse's finest album or not, it's certainly their most coherent concept album. A scatter shot through genres—rock, swing, lounge, orchestral, electronic, Queen. It blatantly name-checks Orwell's 1984 in the first song and continues in that vein of the histrionic, the dramatic, and the all-round entertaining that we've come to expect from a Muse album.
1. The Wall – Pink Floyd
Yes, we've got to have the monarchs of the concept album universe at the top of the list, and The Wall represents their best work as far as I'm concerned. Born from disillusionment and dissatisfaction, it's a slightly pompous but ultimately brilliant tear through a band having a second wind of the finest kind. The instrumentation is transcendent, the lyrics relatable and the vocals utterly memorable. Simply put, its a little slice of perfection.
Around the Web