Jam Bands: A Primer to the Best of the Breed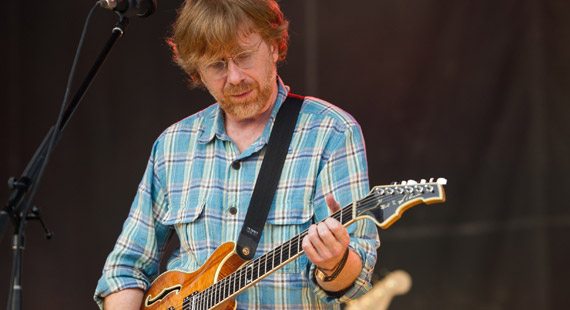 Mark Runyon | ConcertTour.org
It takes a special reputation to earn the status of a jam band, even as some foolishly brush them aside as little more than showcases of virtuosity. Musical improvisation can be daunting to some, especially to listeners that prefer familiarity and repetition. It's simply personal taste. But there are many that seek adventurous thrills through music, and whose stylistic preferences know no bounds. These listeners want to get lost in an entirely unique concert experience, knowing that – no matter how many times they see the band – no night will ever replicate that one. In a world where our daily routines are so numbingly predictable, these jam bands add some variety to our lives. When we choose to experience their live shows, their performances present an entirely unique experience that will never be re-lived.
Grateful Dead
Some wonder how the Grateful Dead attained music's most dedicated fan base. The primal instinct of "Dead Heads" is to hear every one of the band's shows. Their collections include hundreds of bootlegs, which the band fully encouraged distribution of. Not only did their sharing nature promote the art of bootlegging, but the Dead were also largely responsible for encouraging artists to stretch their legs out on stage for decades to come. The band hardly had a predictable vision; they touched on jazz, blues, country, rock, funk, and everything in between during their sprawling shows, with unconventional covers thrown in for kicks. But the Dead would even make the covers sound like their own. The six members were always free to improvise, showing a mutual trust among each member that they would churn out something worthwhile. It was that sort of chemistry and trust that made the Grateful Dead arguably the most prolific jam band of all time.
The Allman Brothers
In terms of their historical impacts for future jam bands, The Allman Brothers are the only group able to hold a candle to the Grateful Dead. As one of the staples of Southern jam bands, The Allman Brothers poured out a lively sound rooted in blues, country, and rock. They're a band that delivers constant good vibes, despite their perilous history. Frontman Duane Allman died in a 1971 motorcycle accident, and other members struggled severely with drugs during the same period. They were on the brink of permanent dissolution at several points, but Gregg Allman and co. were able to emerge triumphantly and become one of the most sought-after live acts for decades to come. Considering that Duane was ranked by Rolling Stone as the second best guitarist to ever live (behind only Jimi Hendrix), it shows just how talented the band were in their prime. Even after the death of their leader, they wouldn't go down without a fight. They still won't, performing at sold-out venues to this day.
Phish
While they may not have the legacy of the two bands above yet, it's only a matter of time. Plus, when The Grateful Dead and The Allman Brothers were touring in their prime, jam bands were somewhat frequent. Phish kick-started the movement again the mid-'80s, inspiring legions of like-minded groups that seek groovy rhythmic extensions and stylistic journeys into the unknown, touching on jams that include almost every genre under the sun, like reggae, classical music, and even barbershop quartet. Nothing's out of bounds for Phish, and that's why they are one of the most exciting acts to ever take a stage, especially one suited with special effects.
Those are the "big three", but here are a few notable contemporaries that continue to define today's jam band scene:
Dave Matthews Band
DMB fans are very much like "Dead Heads"; they refuse to miss any Dave show within driving distance, reasonable or not. The band's workmanlike stage presence is a big reason. With Matthews' venomous howl, screeching violin solos, and intense ten-minute improvisations that extend from quivering folk to thumping funk, DMB always provides an exciting show that leaves audiences begging for more, and panting quite heavily; Dave has a penchant for one of the longest live shows in music, often playing 25-30 (lengthy) songs in any given night. Your price of admission is almost certainly worth it.
Blues Traveler
Though kick-started by Phish and later Dave Matthews Band, Blues Traveler were a big part of the '90s jam band resurrection. Based out of Princeton, New Jersey, the psych-rockers showed plenty of southern heart with twangy infusions of blues and country-rock. Many are most familiar with their Top 40 singles ("Run-Around", "But Anyway", "Hook"), but anyone lucky enough to attend a live show knows that Blues Traveler are not a force to be reckoned with. Their improvisational abilities are thrilling, and their knack for putting out releases on small independent labels makes it even better.
My Morning Jacket
Following in the tradition of Southern jam bands like The Allman Brothers, My Morning Jacket have been making waves in the indie-rock scene for over a decade now. The band provides plenty of catchy three-minute gems on their records, but it only takes hearing "One Big Holiday" live once to grasp the band's abilities on that front. Their thrilling sound, coupled with Jim James' soaring voice, makes for one of today's best touring acts.
Disco Biscuits
Electronic groups usually do not warrant the jam band label, but Disco Biscuits have such a wide following that it's hard not to mention them. It may not be for the likes of "Dead Heads", but fans of electronic music and psychedelic trips will surely appreciate the thrills of this electro-minded jam band, whose combining of synths with traditional rock instrumentation makes for a memorable and otherworldly sound.
Around the Web