Tim McGraw Set for Summer Tour with Cassadee Pope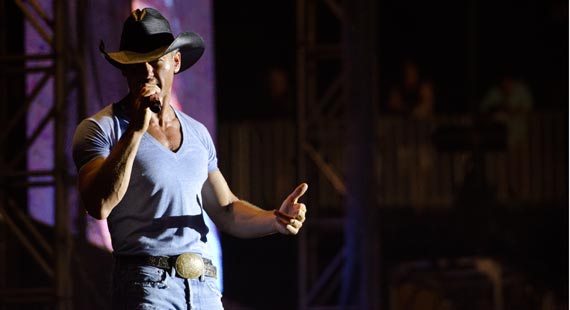 Mark Runyon | ConcertTour.org
"The Voice" season three champion Cassadee Pope has just announced that she'll be accompanying Tim McGraw on the road for his 'Sundown Heaven' tour.
Tweeting last Friday, Pope said:
"Oh ya know. Just gunna join @TheTimMcGraw for the #SundownHeavenTown Tour! More details coming soon!! :D worth the wait, right?!"
Exact tour dates are yet to be released, but the pair will make stops in Phoenix, San Diego, Philadelphia, West Palm Beach, Toronto, Atlanta, Salt Lake City, Houston and Dallas, among other places.
McGraw's latest album hasn't even been out for a whole year yet, and the man's already set to release new material later this year.
"This last year was unbelievable, and I don't have any plans to let off the gas now. We didn't want to waste any time getting new music out," says McGraw in an official statement. "With every album, my approach is to push a few of my own boundaries and try things I've never done before."
"It was hard to choose a lead single off this project because I really felt like we had six or seven good options," he explains of the song selection process. "I kept coming back to 'Lookin For That Girl' because even though it may be a little different for me sonically, I couldn't get it out of my head!"
McGraw's new song, "Lookin' for That Girl," made its way to radio from January 13th, and was available for fans to purchase at iTunes on January 21th. The track is the lead single from McGraw's next album, which will be his second under a new deal with Big Machine.
His debut for the label, Two Lanes of Freedom, scored four hit singles with "Truck Yeah," (see what he did there?) "One of Those Nights," "Highway Don't Care" and "Southern Girl."
Around the Web