Adele is Married & Happy: Can the Breakup Queen Still Make Good Music?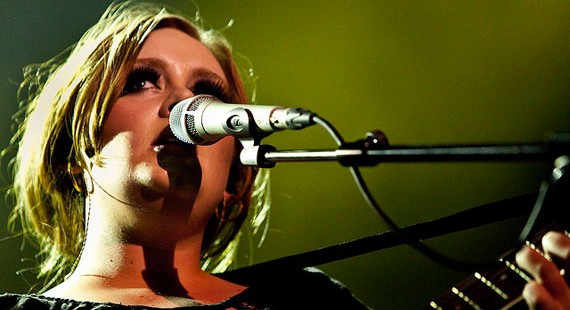 When rumors swirled in late August that Adele secretly married Simon Konecki, her boyfriend of nine months, most fans felt joy – as if a friend had tied the knot. Adele's soaring voice and intimate lyrics lead the array of relatable moments within her songs, which often deal with overcoming woe and heartbreak. Combined with an appearance that defies pop-star convention, Adele's gripping raw talent makes her an easily admirable artist with broad appeal. Part of this appeal is her fascination with imperfection. She isn't concerned with superficial, bodily imperfection – but rather the empty crevices that begin to form in failing relationships.
It's natural to assume Adele's fresh take on motherhood and alleged marriage will affect her music in some capacity. Even on exciting stompers like "Rolling in the Deep", there's the theme of prevailing over heartbreak. "You had my heart inside your hand, and you played it to the beat" she sings on the hit track, before proclaiming "think of me in the depths of your despair." The defiance is portrayed well, but without an initial feeling of loneliness it would not be possible. Assume Adele and Konecki have a long and prosperous marriage. Can she rely on bitter memories to write good music? Or will she end up making boring cover albums once life is flawless? There are arguments to be had for both, but her dismissive view of conventional fame and media suggests she will have no issue finding inspiration to write hit tracks.
The media have a stale obsession with Adele's body image, and she couldn't care less. "Even if I did have, you know, a Sports Illustrated body, I'd still wear elegant clothes," she told 60 Minutes earlier last year. "I've never seen magazine covers or music videos and been like, 'I need to look like that to be a success.' I don't want to be some skinny mini with my tits out." Tasks that we all try to do earnestly – like quit smoking and lose a bit of weight – is magnified for the star because of the tabloids' wrath. Her beginnings were modest, and played much like a typical big-break scenario, so it's little surprise the media latches onto Adele – and any insecurity they pretend she has.
Several years before she won the 2012 Grammy for Album of the Year, Adele gained a following after posting songs on MySpace. A record label rep found her songs, and the big opportunity arrived. Now she is one of the most famous artists in the world, which is especially impressive for a solo artist with a knack for piano ballads. It's easy for listeners to relate to Adele's songs, so when occurrences in her life become public there is often a personal reaction among fans. When she cancelled tour dates in 2008 to be with her boyfriend, it was revealed that their relationship was possibly falling apart. Then came news that she was struggling with alcohol abuse. While such events can understandably be seen as inspiring her material, the necessity of them is questionable at best. After all, The Smiths and Morrissey – the masters of bleakness – produced many songs that actively mocked their gloomy reputation. Somber hyperbole resulted in some excellent songs for them, and it could for Adele as well.
It's neglectful to view perpetual sadness as a necessary ingredient for Adele to write quality songs. Her admirable job of tending to the voracious press should not be overlooked as evidence; she touches on sensitive issues like weight and alcohol abuse with tactful care and compassion. The strength within her songs, and her dismissal of directed verbal attacks, showcase a bold personality that juggles defiant strength with romantic sensibilities. A main reason for Adele's success is the presence of her personality within the music. Regardless of whether or not her marriage succeeds, her personality and abilities will remain intact, and the strengths of her songwriting will too. Having recently given birth will only broaden Adele's perception of the world… the same tasteful and artistic perception that has topped the charts, and will likely continue to do so.
Around the Web