Why Did My Chemical Romance Break Up?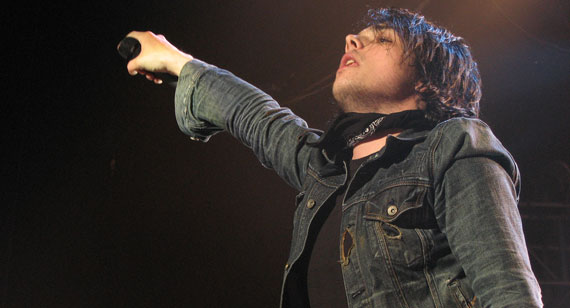 When My Chemical Romance split up, you could practically hear the rending of garments and the tearing out of hair from distraught fans across the world. And while you might think that those disappointed by the loss of MCR are made up of fourteen-year-old girls wearing too much eyeliner and listening to "Teenagers" on repeat, you'd be wrong—thousands of people grew up with the band's anarchic take on pop-rock, carrying a secret (or not-so-secret) torch for Gerard Way and company long after they'd left their teens behind. My own father used to steal my The Black Parade CD on a regular basis to indulge in the bombastic brand of rock, and I myself (pretty much out of my angst stage by now) consider them one of the most entertaining and interesting bands of the last ten years.
For many, their break-up came as somewhat of a shock. After the success of The Black Parade and Danger Days: The Life and Times of the Fabulous Killjoys (their third and fourth albums, respectively), combined with the popularity and reputation that surrounded their legendary live shows, you could be forgiven for thinking that this was a band who would carry on long into their pension years. But last year, it was announced that My Chemical Romance were officially splitting up. And that left many long-time fans asking: why?
The first anyone heard about the split was through a post on their website—declaring that they "shared the stage with people we admire, people we look up to, and best of all, our friends. And now, like all great things, it has come time for it to end. Thanks for all of your support, and for being part of the adventure." Tweeted over ten thousand times, it didn't provide a decent answer as to why the rockers had split after twelve years and four albums.
Soon after the split, frontman Gerard Way (teen heartthrob extraordinaire and owner of some spectacular hairstyles) attempted to assuage some of the rumors that had already consumed social media; "Many a band have waited for external confirmation that it is time to hang it up, via ticket sales, chart positioning, boos and bottles of urine—input that holds no sway for us, and often too late when it comes anyway…The triggerman is unimportant. There wasn't even a blaze of glory in a hail of bullets."
While My Chemical Romance have always tried to go for artistic integrity over financial victory, even this statement seems to imply that there was somebody within the band who'd pushed for the break-up. And, if anyone, it seems likely that this was guitarist Frank Iero.
Iero has spoken about the split in an interview with NME, stating "It was a long time coming. But I didn't foresee it happening at that moment… The announcement and what happened. It was done for the right reasons. I just wish the timing was a bit different.. It was sad. But at the same time, it felt like I could breathe a little bit."
Iero, who's been with the band since the beginning, recently launching the career of his own electronic hardcore band Death Spells, which includes an East Coast Tour and a spot supporting Mindless Self Indulgence. Fans have speculated that it was his desire to move on with his musical career than caused him to leave.
Other sources have looked to Gerard Way's two-thousand word Twitlong essay in response to the split for reasons, and he's not giving anything away. He denies any animosity between band members ("there was no divorce, argument, failure, accident, villain, or knife in the back that caused this, again this was no one's fault"), and puts the eventual break-up of the band down to his own feelings towards performing. Way claimed that the band had a built-in "self-destruct" button that had been agreed upon back when they first formed in 2001, and it might have had something to do with Way's disinterest in performing live. The final section of his emotive essay discusses a show in Jersey, back in 2012, a year before the band split.
"The show is… good. Not great, not bad, just good. The first thing I notice take me by surprise is not the enormous amount of people in front of us but off to my left—the shore and the vastness of the ocean. Much more blue than I remembered as a boy. The sky is just as vibrant. I perform, semi-automatically, and something is wrong. I am acting. I never act on stage, even when it appears that I am, even when I'm hamming it up or delivering a soliloquy. Suddenly, I have become highly self-aware, almost as if waking from a dream. I began to move faster, more frantic, reckless—trying to shake it off—but all it began to create was silence."
It's difficult to tell if the band broke up because of one person or because of circumstances; if they felt like they'd just come to an end or if somebody wanted a new beginning. They'll be missed either (Gerard) Way.
Around the Web