Concert Review: Band of Skulls at Warsaw in Brooklyn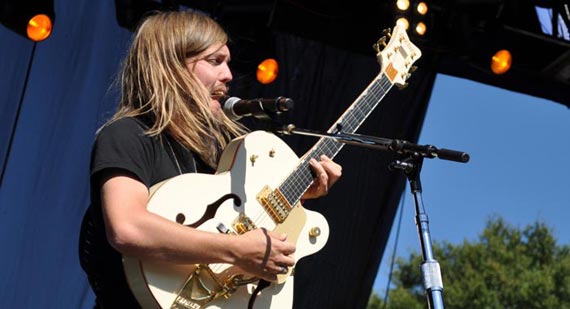 Mark Runyon | ConcertTour.org
Yesterday was a big day for Band of Skulls, as the alternative rock band played their new single "Asleep at the Wheel" on Late Night with Seth Meyers, rocked a sold out show in Brooklyn, and announced their headlining spot at the 2000trees Festival this summer.  There's nothing slowing down the Southampton, England natives as they prepare to release their new album Himalayan on March 31st.
Husband and wife duo Crushed Out opened for Band of Skulls during last night's concert at the Warsaw in Brooklyn.  Band mates and soul mates, Franklin Russell Hoier and Moselle Spiller met while living in the same Buschwick, Brooklyn apartment building, and the rest has been a blur of love and music, as they support bands like the Jon Spencer Blues Explosion, The Gories, Social Distortion, and The Fleshtones.  Heavily influenced by 1950s rock and roll and Chicago blues music, Hoier commands the guitar while Spiller rocks the drums.  The couple sings together on their album Want to Give and their 2010 EP Show Pony, channeling what they call an "electrified honky-tonk surf rock" sound— translation: high-energy, soulful, poetic rock.  A good portion of last night's crowd was there to see the fast-paced indie rockers, and Crushed Out definitely impressed.
Located in Greenpoint, the Warsaw was the perfect place for Crushed Out and Band of Skulls to perform to an intimate crowd.  Truthfully, the divey, hipster venue needs a fresh coat of paint and a bigger bar (with a wider selection, please!), but this Polish community center has a ton of character (like a massive, misshapen disco ball hanging above the dance floor).  Although I had to haggle with the will-call folks for far too long to get my tickets, once I managed to set foot in the place I was relieved to find that the sold-out standing room event wasn't uncomfortably full.  I was able to enjoy my $4 beer and have room to dance—a luxury at most small NYC venues.
The crowd was a mixture of faithful fans and Band of Skulls newcomers, but everyone was wildly receptive to the opening song "Asleep at the Wheel," from their new album.  Transitioning between songs from their first and second albums, Baby Darling Doll Face Honey and Sweet Sour, respectively, they kept the crowd enthusiastically engaged.  Concertgoers sang along to catchy songs like "I Know What I Am" and "The Devil Takes Care of His Own."  To put it into perspective, Band of Skulls churn out the kinds of songs that are featured in sleek car commercials, video games, and action-packed TV shows (their song "Friends" even got a coveted spot on The Twilight Saga: New Moon soundtrack.)  Their songs are the ones that make you pull up your Shazam app at the bar so you can immediately go home and obsessively download.
Matt Hayward's energetic, skillfully frenetic drumming complemented Russell Marsden's complex guitar riffs and Emma Richardson's sultry bass lines.   Also, is there anything more badass than an insanely cool woman playing bass? I think not.  Marsden and Richardson took turns with lead vocals, often working in goose bump-producing harmonies at key moments.  They've come a long way since their days of recording demos in a London shed-studio circa 2004.  An outpouring of support rippled through the crowd when Marsden announced they'd be performing their new track "Nightmares" as their fifth song of the night.
While there was nothing overtly charismatic or over-the-top about the trio's performance, they kept the crowd engaged without all the frills and special effects that bigger names employ— their music did the captivating, and it was apparent that the band members were seriously focusing on their craft.  Often times, there is an unspoken competition where one member steals the show, but Band of Skulls didn't play into that.  As the lone lady of the group, Richardson could have used this to her advantage, but she and her band mates didn't go there, and that just made everyone adore them more.
Thankfully the venue's acoustics were crisp enough to accommodate every mesmerizing guitar solo.  Band of Skulls' sound often reminded me of a less-yelpy version of the Yeah Yeah Yeahs, but that could simply be due to Richardson's Karen O-esque hairstyle (which she rocked, by the way!).  With a casual, relaxed vibe maintained at all times, Band of Skulls are the epitome of a cool, English rock band.  Clearly influenced by classic and hard rock, they channeled a soulful, passionate demeanor without delving too far into that excessive guitar solo jam band territory. They finished their main set with a bang, remaining humble and grateful as they left the stage while hypnotic electric guitar riffs still rang in our heads.
After making us beg, scream, stomp, and clap for five minutes (an eternity in concert-going time), Band of Skulls returned to the stage for their three-song encore, kicking it off with their hit "Sweet Sour," winner of the 2013 Independent Music Award for "Best Rock/Hard Rock Song."  They also performed "Death By Diamonds and Pearls," a guitar-heavy, alt-rock masterpiece.  The crowd's energy spiked even higher when the band encouraged us to yell along during the "hey!" portion of their infectious song "Hollywood Bowl" (even when I listen to it alone, I find myself shouting along).  Band of Skulls left us feeling rejuvenated, edgy, and eager to tell our friends how awesome the gig was.  Having opened for bands like Muse and The Dead Weather, Band of Skulls is now returning to the UK for their own headlining tour that will take them over to Europe, Canada, back to the States, and over to Australia— and they've certainly earned it.
After they're finished touring in support of Himalayan, they will be headlining the 2000trees Festival on July 10th-12th.  The 5,000-capacity music festival is held in the Cotswold Hills of England on Upcote Farm.  Other acts performing include Kids In Glass Houses, DZ Deathrays, Maybeshewill, Decade, Kill Chaos, Youth Man, and Joe Summers.  Voted one of The Guardian's "Top 10 Small Festivals," 2000trees is two nights of camping, locally produced ciders, ales, and lagers, and countless food vendors galore while you enjoy over 80 underground rock and indie bands.  Don't be surprised if you see Band of Skulls breaking into the mainstream festival circuit this year— if last night's performance was any indication, this band is going places.
Interact with the band:
Official Band of Skulls website
Tour Dates
Twitter
Facebook
YouTube
Soundcloud
Instagram
Google+
Around the Web