Concert Review: CHVRCHES at Northside Festival in Brooklyn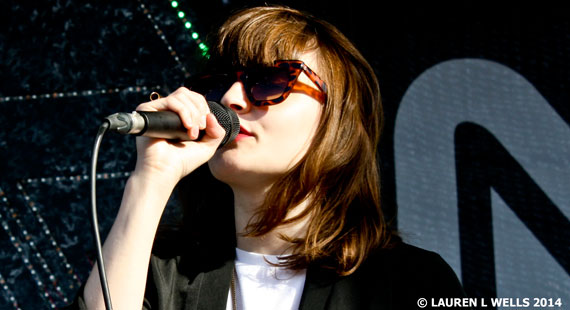 Lauren Wells | ConcertTour.org
I'm a sucker for catchy bands fronted by badass ladies, so when I heard CHVRCHES was going to be headlining Brooklyn's Northside Festival, naturally I had to be there… Along with every other New Yorker.  The free, sold-out show took place in Williamsburg, on the edge of McCarren Park.  Booked as a "rain or shine" event, the gig thankfully transpired under a cloudless summer sky.  With plenty of food, beverage, and merch vendors dispersed throughout the makeshift parking lot venue, the concert saw a great turnout as music lovers filtered in while the opening acts performed.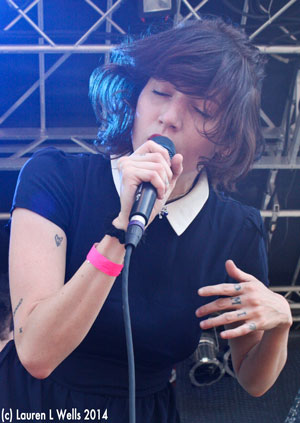 Hunters took the stage at 4:15PM, projecting their loud, punk rock sound into the crowd.  Led by vocalist Izzy Almeida and vocalist/guitarist Derek Watson, Hunters is a chaotic, head banging band influenced by artists such as the Melvins, Sonic Youth, the Stooges, and the Cramps.  While a lot of the vocals were unintelligible, their physical movements and appearance stole the show: Almeida showed off a music bar tattoo that ran along the circumference of her thigh while she screamed, yelped, and dramatically hunched over throughout the set.  Her unpredictable movements and array of distorted facial expressions kept the CHVRCHES fans entertained for a very brief set that featured songs from their 2013 self-titled debut album (from mom + pop records).  Fun fact: Almeida and Watson have been dating since they met in 2009 while working at a Chinatown arcade.
Promptly at 5:15PM, The Range started a 45-minute DJ set as the crowd continued to grow.  The Range is producer James Hinton, a Providence, Rhode Island native.  Playing songs from his first full-length album Nonfiction and his 2014 EP Panasonic, Hinton layered vocal samples atop hip-hop beats, creating mellow, danceable vibes for the sun-kissed crowd.  Much to the crowd's liking, Hinton even threw in a CHVRCHES tribute when he played his track "We Sink (The Range Remix)". Check it out here:
His mixing of original compositions with sampled pieces from other songs makes his tracks successful in a recognizable, but inherently unique way.  You may know the chorus from an old hip-hop song, but you can't completely place the track it's layered on top of, which keeps you on your toes as you listen, wondering where the song will go next.  While his show admittedly was very pleasing, especially with yesterday's beautiful weather to boot, Hinton wasn't giving off much by way of showmanship.  I often overheard people complimenting the music and swaying along, but mentioning that they didn't think there was much happening onstage.
Around 6:15PM, headliner CHVRCHES (pronounced "churches") came on the stage as the packed crowd wildly cheered.  Why this spelling? Because "CHVRCHES" with a Roman "v" is easier for music lovers to find online than the alternative.  The Scottish trio, fronted by vocalist Lauren Mayberry, consists of Iain Cook (synthesizers, guitar, bass, vocals) and Martin Doherty (synthesizers, samplers, vocals).  Having seen tremendous success since the September 2013 release of their debut album The Bones of What You Believe, CHVRCHES opened their set with the synth-heavy gem "We Sink."  Mayberry's delicate, echoey voice suits the songs as she effortlessly sings, "I'll be a thorn in your side til you die / I'll be a thorn in your side for always / If we sink, we lift our love."  The band transitioned into a song that first propelled them to the forefront of people's iPods: the punchy, infectious electro-pop track "Lies" (this song always makes me wildly dance around despite who's watching).  "Lungs" and "Gun" followed suit, pairing to-the-point lyrics with dance-friendly synth tracks.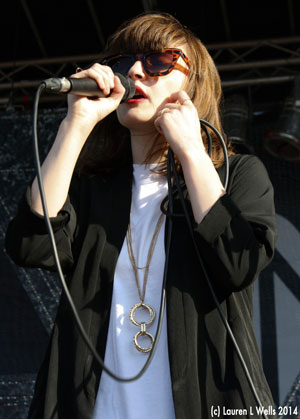 The entire 12-song set was a perfect, electro-sing-along featuring nearly every track off their impeccable, critically-acclaimed album.  Between songs like "Night Sky" and "Strong Hand," Mayberry took time to interact with the crowd, often commenting on the Brooklyn heat being very different from her cloudy Glasgow upbringing (her flawless, fair skin emphasized this).  When she didn't understand the use for a flimsy, paper frisbee that was thrown her way, she said defensively (and with a smile), "I don't see the purpose of these… I'm foreign, leave me alone!"
During another break between songs, two fans caught Mayberry's attention when she realized they were wearing paper masks of her face.  Putting on the mask, she laughingly said, "It's a clever disguise, really.  No one would wear a mask of their own face around.  No offense, but it's a bit creepy!"  Transitioning from her polite stage banter into "Science / Visions," (a track you can feel building from its distant, delicate vocals into a throbbing, powerful entity), Mayberry often stepped back from the mic stand during instrumental transitions, allowing her bandmates to show off their craft.  These blissful moments were counterbalanced by energetic, crowd-favorite choruses like that of "Recover," as the whole audience sang:
I'll give you one more chance

To say we can change or part ways

And you take what you need

And you know you don't need me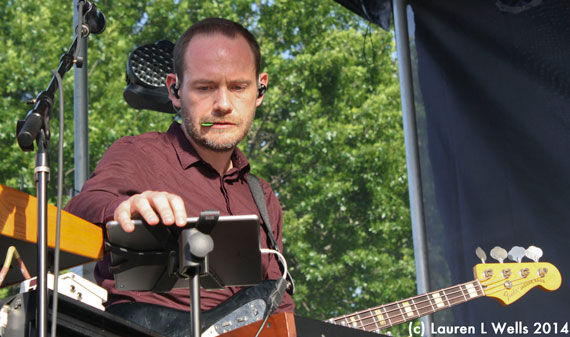 Iain Cook took charge of synthesizers, guitar, bass, and backing vocals during the band's live show.  
Even if this concert had taken place during a torrential downpour instead of blinding, long overdue sunshine, CHVRCHES' music has a hard-to-come-by quality that makes listeners find peace in any setting  (the upbeat hook in "Tether" being one such moment).  Closing out their set with "By the Throat" and the ever-popular "The Mother We Share," the trio was done by 8PM, long before the sun set, leaving sweaty fans with smiles on their faces. They'll be hitting the festival circuit this summer, performing at Germany's Hurricane and Southside festivals as well as Glastonbury.  They can't come back to NYC soon enough!
Around the Web