Concert Review: Randy Travis at Toadlick Festival in Dothan
The inaugural Toadlick Music Festival kicked off yesterday afternoon in Dothan, Alabama. Its bill features some of country music's brightest up-and-coming stars as well as iconic names like none other than Randy Travis. After taking in a solid set by Atlanta-based southern rockers Blackberry Smoke, Randy Travis was set to take the main stage at Toadlick. Travis is currently touring in support of his 25th anniversary album. Rather uniquely, Randy Travis was introduced by his contemporaries as well as country's next generation as they flashed across the video board, talking about the impact Travis has made on their music and what he means to the fabric of country music. It was quite an endorsement for a crowd that needed no convincing. Travis walked onto the stage to a heroes welcome.
He wasted no time launching into his set, kicking off with the 1998 bluegrass hit "The Hole." He had his full band in tow and they were marching along to his groove.
Randy Travis frequently took pause between songs to tell a joke about the perfect driver or to explain how the youngsters love Carrie Underwood's "I Told You So" and he has to remind them that it is his song first. These brief asides helped pull Travis off the stage to make it feel like he was in a lawn chair beside you, catching up over a few beers. It was a pleasant reminder that he's just a regular guy blessed with an extraordinary gift.
Travis' 25th anniversary album is a series of duets with the friends he's played with and inspired throughout the years. It features heavyweights like Kenny Chesney, Tim McGraw, Brad Paisley and Carrie Underwood. It is a collection that leans heavily on his classics and it should come as no surprise that his set at Toadlick did the same. Timeless hits like "Diggin' Up Bones" and "Too Gone Too Long" were front and center. The crowd seemed to love this stroll back down memory lane as Travis pressed rewind through the best moments of his storied career. He even pulled out the mashup he collaborated with Alan Jackson on "Better Class of Losers/She's Got Rhythm."
The one thing that is most noticeable about Randy Travis is his genuine humility. Travis is unquestionably a very talented songwriter, but he realizes why he's endured 30-plus years when other artists with similar talent have long since fizzled out. His fans are the key to his longevity as an artist he is appreciative of their support.
Randy Travis closed the evening with the beautiful "Forever and Ever, Amen." It was a fitting song to wrap a great snapshot of this legendary artist. Randy Travis may not be burning up the Billboard charts like he was when he first burst onto the scene in the 80s, but he's still got that fire. He is a great showman who does it without the light shows and the pyrotechnics. Instead he focuses on the rawness of the music, exploring the depth of his voice and the connection he makes with his audence. Randy Travis is an institution in country music, and he was the perfect choice to highlight the first evening of the Toadlick Music Festival.
Check back in this weekend as we cover all three days of the Toadlick Music Festival come rain or shine with concert reviews and photos of your favorite country acts.
Randy Travis Toadlick Setlist
The Hole
Hard Rock Bottom of Your Heart
Better Class of Losers/She's Got Rhythm
Diggin' Up Bones
On the Other Hand
Everything and All
I Told You So
Deeper Than the Holler
He Walked on Water
More Life
Before You Kill Us All
It's Just a Matter of Time
Too Gone Too Long
Three Wooden Crosses
If I Didn't Have You
Forever and Ever, Amen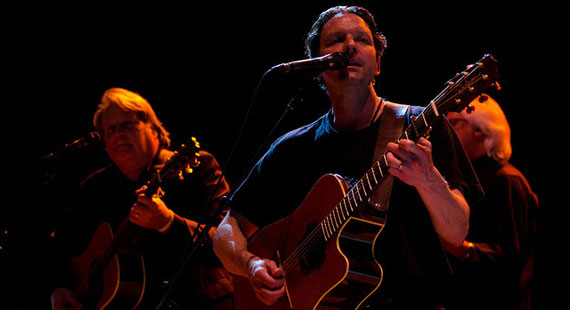 Mark Runyon | ConcertTour.org
Around the Web