How Supernatural Introduced Santana To An Entirely New Generation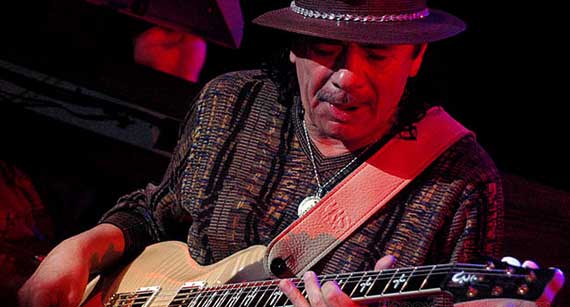 Carlos Santana's place in Latin rock folklore had already been cemented. Arguably one of the most talented guitarists of his generation, the Mexican and his ever-changing backing band was widely hailed as the standout performer at Woodstock, was a constant fixture on the 70s music scene and even managed to sneak in a few hits in the 80s. But despite a healthy presence on the live circuit, by the beginning of the 90s, his commercial viability was virtually non-existent and even scraping into the US Hot 100, let alone bagging a number one, seemed virtually unthinkable.
However, on the eve of the 21st Century, the then 50-year-old suddenly became more successful than he'd ever been, scoring a chart-topping album that went onto reach pole position a staggering 12 times, sell over 30 million copies worldwide and win nine Grammy Awards. It was a remarkable turnaround considering previous studio effort, 1992's Milagro, could only peak at No.102, his last Top 10 album came with 1981's Zebop and his most recent hit single was 1982's "Hold On."
Responsible for Santana's second wind was none other than record company executive Clive Davis, the mastermind behind the careers of everyone from Whitney Houston to Barry Manilow and the man who he had previously worked with at Columbia Records. Sensing that Santana still had hits left in him, Davis encouraged him to team up with a whole host of artists young enough to be his children, and in some cases, grandchildren, for a last-ditch attempt at chart glory, Supernatural.
Although only five solo tracks appeared on the record ("Africa Bamba," "Migra," "El Farol," "(Da Le) Yaleo)," "Primavera"), Santana was never relegated to guest performer on his own album. Indeed, his signature Latin rock riffs were just as instrumental to its success as the star turns from the likes of Dave Matthews ("Love Of My Life"), Eric Clapton ("The Calling") and Lauryn Hill ("Do You Like The Way").
And despite its reputation as a star-studded affair, Supernatural wasn't always exactly A-list. R&B duo The Product G&B were pretty much an unknown quantity, only really notable for the occasional vocal on Pras & Wyclef Jean records, Cee Lo Green was half a decade away from becoming the voice behind Gnarls Barkley, while Neneh's brother Eagle Eye Cherry's first Top 10 hit a year earlier, "Save Tonight," proved to be his only one.
Nevertheless, its more MTV-friendly roll-call certainly helped in getting the record played in places which normally wouldn't have touched it with a bargepole. The Rob Thomas-fronted soft-rock of "Smooth" became the very last number one of the millennium, eventually spending 12 weeks at the top, the more R&B-led "Maria, Maria," almost matched its success, taking pole position ten times, while Everlast collaboration "Put Your Lights On" went onto pick up a Grammy Award for Best Rock Performance by a Duo or Group with Vocal.
Having scored a Billboard Top 200 chart-topper 29 years after his last, 1971's Santana III (a world record for the longest gap between No.1 albums), it was unsurprising that Santana continued to stick to a winning approach throughout the rest of the 00s. Featuring vocals from Michelle Branch ("The Game Of Love"), Seal ("You Are My Kind") and Dido ("Feels Like Fire"), 2002's Shaman repeated the number one success of its predecessor. Aerosmith's Steven Tyler ("Just Feel Better") Joss Stone & Sean Paul ("Cry Baby Cry") and Los Lonely Boys ("I Don't Wanna Lose Your Love") were just some of the contributors to 2005's All That I Am. While Bush's Gavin Rossdale (T-Rex's "Bang A Gong"), Stone Temple Pilots' Scott Weiland (The Rolling Stones' "Can't You Hear Me Knocking") and Soundgarden's Chris Cornell (Led Zeppelin's "Whole Lotta Love") all guested on 2010's rock covers collection, Guitar Heaven.
The failure of his 22nd studio album, Shape Shifter, (the first to eschew his magic formula in over 20 years), to continue his tally of US Top 10 hits suggests that solo Santana isn't as enticing a prospect as collaborative Santana. But even if he never sets foot inside the Billboard charts again, Supernatural has ensured that he remains as much a household name with those who grew up in the 00s as the generation who grew up in the 70s.
Around the Web