Jake Owen Fills Summer with Days of Gold Tour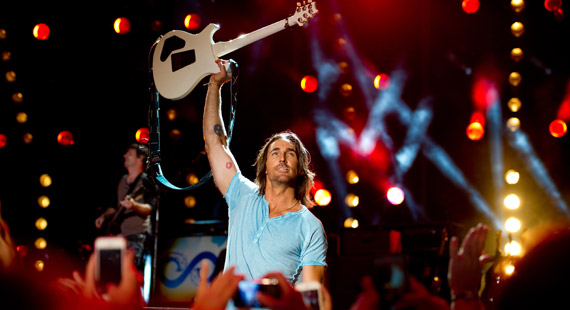 Mark Runyon | ConcertTour.org
Country star Jake Owen has just revealed a series of tour dates in support of his latest album Days of Gold.
The 55 city trek kicks off on March 20th with a show in Brookings, South Dakota and will see Owen makes stops in New York, Virginia Beach, Buffalo, Wichita, and Atlanta among others, before wrapping up on October 25th in Vero Beach, Florida.
On his official site, Owen promises his fans one massive party:
"I love throwing parties! This tour is going to be one big party and everyone is invited. I've been lucky enough to be on the road and learn from incredible artists like Chesney, McGraw and Aldean. I'm really proud of this tour and can't wait for the fans to see what's in store. The first night can not get here fast enough!"
Country Weekly added "Ain't no party like a Jake Owen party", and we believe them.
Owen will also be the headliner for The Players Championship's Military Appreciation Day on May 7th, the eve of the tournament's first round.
"Performing for the military is always a true honor," Owen said in a statement. "I admire what these men and women do to serve our country and I can't wait to show my support."
Joining Owen on the road for select dates are Eli Young Band along with Parmalee, Thomas Rhett and The Cadillac Three.
The tour will be in support of Owen's latest studio effort, Days of Gold, which was released at the beginning of December 2013.
It peaked in the Billboard top 20, and received acclaim from numerous country music publications. Allmusic said "There's no mistaking Days of Gold for anything earthy, but this sonic thawing winds up emphasizing Owen's inherent sweetness in an appealing fashion." The album also spawned hits "Days of Gold" and "Beachin'".
Around the Web