John Legend's Greatest Collaborations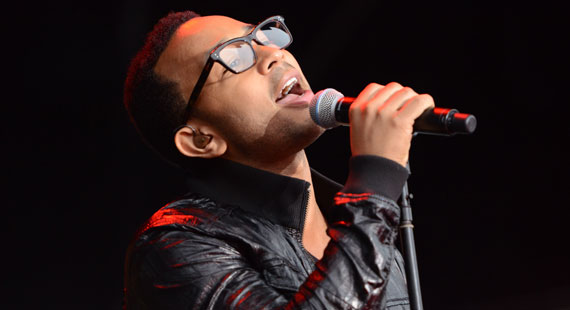 Mark Runyon | ConcertTour.org
Arguably the smoothest soul singer of his generation, John Legend kick-started his career writing for and performing with artists including Alicia Keys and Janet Jackson before signing to Kanye West's label in 2003. Now on his way to reaching the status of his stage name, the potential heir to Marvin Gaye's throne has impressively continued to collaborate with a similarly high-profile list of star names without ever compromising his sophisticated neo-soul sound. Here's a look at ten of the best.
Green Light – with Andre 3000
The piano-man of soul messing around with synths? The lead single from his 2008 third studio effort, Evolver, may on paper have suggested Legend had jumped on the electro-pop bandwagon. But thankfully, "Green Light" was no Guetta-esque 'fun in the club' banger. Just as suave as his more familiar ballads, its foot-tapping blend of 80s hip-hop snares and squelchy synths were perfectly complemented by a typically leftfield rap from Outkast's Andre 3000, creating one of the most joyous tracks of Legend's career.
Do You Wanna Ride – with Jay-Z
In addition to his mentor, Legend has also worked with the likes of Rick Ross, T.I. and Lupe Fiasco, but it's "Do You Wanna Ride," a track taken from Jay-Z's 2006 ninth LP, Kingdom Come, that is perhaps his finest hip-hop moment. Providing his usual touch of class, Legend's effortlessly vintage-sounding vocals are the perfect accompaniment to its emphatic beats, elegant piano chords and supremely seductive low-slung bassline.
Don't Give Up – with Herbie Hancock and Pink
One of the oddities in Legend's back catalogue, "Don't Give Up" saw Legend join forces with Pink and jazz veteran Herbie Hancock for the latter's collaborative The Imagine Project. Surpassing the original Peter Gabriel and Kate Bush duet was always going to be a tall order, but this tasteful world music interpretation makes a decent fist of it.
Blame Game – with Kanye West & Chris Rock
One of the many occasions when Legend has teamed up with the man who discovered him, "Blame Game" is easily their most emotive. The standout track from the excellent My Beautiful Dark Twisted Fantasy, "Blame Game" bravely contrasts Legend's soulful delivery with West's angst-ridden tale of unrequited love and spousal abuse, an inspired Aphex Twin sample and an extremely colourful rap from comedian Chris Rock.
Heartbreaker – with MSTRKRFT
Legend could probably have had his pick of superstar DJs to collaborate with but instead he chose little-known vowel-avoiding Canadian duo MSTRKRFT for his most direct journey on to the dancefloor. Far more subtle than most of his peers' club-focused efforts, "Heartbreaker" is a delightfully melancholic electro-house anthem which deserved to be a far bigger hit than it was.
No Other Love – with Estelle
Having co-penned and produced "American Boy," the 2008 number one single that completely transformed Estelle's career, the British soul singer returned the favour by lending her sweet tones to "No Other Love," a laid-back summery tune composed of skank reggae guitar riffs and breezy horns which even managed to usurp Buju Banton duet "Can't Be My Love" as the best Jamaican-inspired tune on Evolver.
Getting Nowhere – with Magnetic Man
Legend may have a rather MOR reputation but he's far more adventurous than he's given credit for, as evident on "Getting Nowhere," where he became one of the first US R&B stars to truly embrace the now ubiquitous dubstep sound. A haunting fusion of lolloping glockenspiels, spacious beats and piercing strings, this highlight from Magnetic Man's self-titled debut album proved dubstep was capable of packing an emotional punch.
Number One – with Kanye West
"Ordinary People" quite rightly received most of the attention but 2004 debut Get Lifted contained many other gems, one of which was "Number One," his first hook-up with Kanye West which borrowed from The Staple Sisters' "Let's Do It Again" to produce a charming string-soaked slice of neo-soul, even if its rather questionable cheating-endorsing lyrics are at odds with his usual romantic fare.
Please Baby Don't – with Sergio Mendes
Perhaps not the most credible number Legend has put his name to, but whilst this sun-soaked offering from Brazilian bossa nova icon Sergio Mendes' 2006 album, Timeless, may sound like it could be the theme tune to a reboot of The Love Boat, it's difficult to resist its effortless lounge-pop charms.
So High – with Lauryn Hill
Originally released as a solo number on Get Lifted, the 70s soul balladry of "So High" was given a new lease of life with this Cloud 9 remix featuring none other than Lauryn Hill. Possibly her only worthwhile musical contribution of the 21st Century, Hill's sublime voice blended with Legend's so effortlessly, it left you wishing she could have got her act together long enough for them to record a whole album together.
Around the Web