Keith Urban Reignites the Fuse with Brett Eldredge, Jerrod Niemann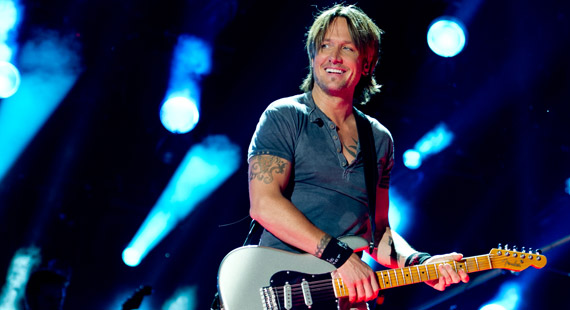 Mark Runyon | ConcertTour.org
Despite currently fulfilling his duties as a judge on Fox's "American Idol", Keith Urban is set to follow his stint in the judge's chair with a concert tour just in time for summer.
The Raise 'Em Up tour's US leg is scheduled for lift off at The Borgata in Atlantic City, New Jersey on July 17th, and will see the country singer make stops in Boston, Virginia Beach, Atlanta, and Denver, among other locales, before wrapping up in Puyallup, Washington on September 13th.
Jerrod Niemann and Brett Eldredge will accompany Urban on the road across the tour's 27 dates.
The new tour is named after the duet with Eric Church of the same name that appears on Fuse, Urban's latest album, of which the tour is in support. The name of the tour has, somewhat unsurprisingly given internet culture, caused speculation that Eric Church may join Keith on some of the dates. Whether or not that's true remains to be seen, but Urban did give fans some idea of what to expect for the upcoming trek.
"The 'Raise 'Em Up' tour will be a complete build from the sky down. New staging, new production, a lot more songs from Fuse that the fans have been requesting, a different mix of previous hits and some rarities from past albums that we haven't played in a while, if ever. And we'll be sharing the stage with Brett and Jerrod, both with killer new albums."
2014 looks to be a road-heavy year for Urban, who ended his Light The Fuse tour on February 1st.
Urban is also playing eight shows in his and wife Nicole Kidman's native country of Australia during the month of June, but these dates have not been announced as part of the Raise 'Em Up tour. His official website also lists four additional shows in the US during March, April and May. Somebody get this man a Gatorade!
Around the Web