Kid Rock's Most Controversial Moments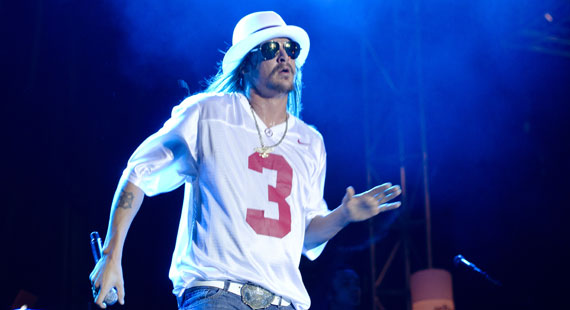 Mark Runyon | ConcertTour.org
Any notion that the chart-topping success of 2007's Rock N Roll Jesus may have finally transformed Kid Rock into a model of respectability were quashed four years later when the rock-rap redneck found himself in the midst of a civil rights controversy.
Handed the National Association for Advancement of Colored People's Great Expectation Award due to his charitable donations in the Detroit area, the self-confessed bad boy appeared to have made the headlines for all the right reasons. However, his insistence on waving the Confederate Flag in his music videos and live shows, an image widely associated with the Ku Klux Klan and the Aryan Nation, because 'it just looks cool,' unsurprisingly enraged many activists who felt that he wasn't exactly the most appropriate person to be given such an accolade.
The surrounding furor was typical of Kid Rock's knack for creating controversy. Almost a full decade before he became a household name, his profanity-laden ode to oral sex, "Yo Da-Lin In The Valley," landed WSUC-FM a whopping $23,000 fine from the FCC when the New York radio station played it in full during the promotion for 1990's Beastie Boys-inspired debut Grits Sandwiches For Breakfast.
Throughout the decade, he was arrested on several occasions for various alcohol-related incidents, while The Polyfuze Method, Early Mornin' Stoned Pimp and breakthrough LP, Devil Without A Cause, continued to unashamedly glamorize misogyny, homophobia and teenage sex.
But it was in the 00s when his rebellious nature understandably courted more publicity. In 2001, his choice of David Allan Coe as supporting act for his American Bad Ass tour was criticized by the likes of author/journalist Neil Strauss due to question marks over the outlaw country singer's allegedly racist material.
Three years later, he was accused by the Veterans of Foreign Wars of desecrating the American Flag when he tore it up to wear as a poncho during his half-time performance at the Super Bowl in Houston, Texas. While in 2006, he was forced to sue Red Light District after the company threatened to release a sex-tape, recorded seven years earlier, featuring Rock, Creed's Scott Stapp and several groupies.
While such acts might be regarded by some as a storm in a teacup, then Rock has also found himself on the wrong side of the law on various occasions too. In 2005, he was sued for $575,000 and arrested for assault after punching DJ Jay Campos at Christies Cabaret strip club. In 2007, he was forced to undergo 80 hours of community service and an anger management course after pleading no contest to a charge of simple battery at an Atlanta Waffle House restaurant. While in the same year, he also pleaded guilty to assaulting former Motley Crue drummer Tommy Lee at the MTV Video Music Awards.
Of course, the latter incident garnered the most attention due to the fact that both parties were former husbands of Pamela Anderson, although Lee's three-year marriage was slightly more enduring than the five months Rock and the "Baywatch" icon managed to spend together in 2006.
Signs that Rock's anger management therapy might not have been completely successful emerged in 2008 when he cancelled his headlining set at Download at the last-minute and admitted to urinating on the sofa of the festival's manager following a dispute over the treatment he and his entourage received while waiting to perform.
Other than the NAACP uproar, Rock has largely managed to keep himself out of trouble over the last few years. However, having performed alongside Lynyrd Skynyrd and Trace Adkins at the 2012 Republican National Convention in Tampa, Florida, allowing Mitt Romney to use the track "Born Free" during his unsuccessful Presidential campaign and introducing Romney's running mate, Paul Ryan, at a Michigan rally, there has been some debate over how the party can ally themselves with a man previously responsible for songs such as "Wax The Booty," "Balls In Your Mouth" and "You Never Met A Motherf****r Quite Like Me."
But the fact that 2012's recent Rebel Soul provided him with a sixth consecutive US Top 10 album suggests that such controversy certainly hasn't done Kid Rock's career any harm.
Around the Web