How Neil Young Affected the Sound of the Grunge Movement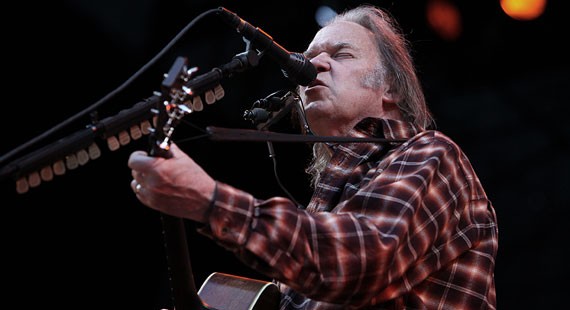 Neil Young's illustrious discography can be daunting for even longtime fans. With 35 full-lengths and dozens of live and tribute albums, it's impossible to concisely classify his sound. Folk, country, and rock dominate much of his material, but Young's sheer willingness to stretch out his stylistic boundaries – throughout every decade of his career – makes classifications like the "Godfather of Grunge" a bit head-scratching to some. It's not that the tag is worth arguing. Young's influence on the majority of rock and folk music today is impossible to overlook. It's that emotive and narrative efforts like "Powderfinger", or everything on bleak and stoned albums like On the Beach, are hardly representative of the grunge we know today. But a thorough look at his discography, and both the popular and overlooked efforts within it, proves that Young was indeed the "Godfather of Grunge" – or at least the only one still going strong today. Many who argue with the label "Godfather of Grunge" simply have not immersed their ears in enough of Young's discography.
While some argue that Nirvana's Kurt Cobain rightly deserves the label, glimpses of Young's influence on grunge is heard as early as the late '60s, when Cobain was learning how to walk. 1969's "Cinnamon Girl" is one surefire predecessor. Its twangy distortion rides over the tender nonchalance of dual vocals, and a booming bass descends ominously at each verse's end. Young's vocals are more sweeping and melancholic than grunge staples here, and the vocals are more up-front as opposed to grunge's traditionalized tendency of pushing vocals toward the back, a trademark inclination of producer Steve Albini, a noted Neil Young fan. Albini was responsible for producing Nirvana's In Utero, as well as a slew of releases from artists that dabbled in their own grunge hybrids – like PJ Harvey and Manic Street Preachers. While largely in the more alt-rock sphere, these artists and others (like The Pixies and Sonic Youth) proved to be vital influences on future grunge acts. Many of these grunge predecessors have referenced Young, a mention that seems mandatory among artists of that era and then-burgeoning grunge sub-culture. The frequent references to him among grunge's most stalwart acts are no coincidence.
The aforementioned "Cinnamon Girl" is arguably the most popular track on Young's pivotal 1969 album Everybody Knows This Is Nowhere, his first with Crazy Horse as the backing band. His self-titled solo debut a year earlier, and preceding Buffalo Springfield releases, emphasized a direction more centered on country and folk. "Cinnamon Girl" kicked off an album confident in a distorted sound, carrying Young to a new direction that often epitomized his legendary '70s output. And while it's easy to hear how the production on Everybody Knows This Is Nowhere later influenced grunge, a more underlying and equally important factor was the sorrow depicted in the songs, even over fleeting guitars and an active musical backing. "Round & Round (It Won't Be Long)" rode on gently swaying acoustics as opposed to electric fury, but its focus on the frailty of life was something grunge echoed in many of its greatest his. Even on tracks like this, where the musical accompaniment suggests more country-folk and grunge, a topical influence is apparent.
There are plenty of Young tracks throughout the '60s, '70s, and '80s that show glimpses of what was to come in early '90s grunge. His 1979 album, Rust Never Sleeps, is one of the greatest examples. The genius of "Hey Hey, My My (Into the Black)" is never to be understated, as its crunchy guitars and Young's gripping guitar solos went on to influence a legion of grunge artists. An acoustic version includes the lyrics "It's better to burn out than to fade away", which was by no coincidence the last line in Kurt Cobain's suicide note. The track represented a clashing of punk and New-Wave, its ferocious tone touting an irresistible presence that saw Young entering yet another phase, this one remembered most by future grunge stars. This stage continued into the '90s, where he put out such pinnacle albums as 1990's Ragged Glory, perhaps Young's album most true to contemporary grunge. The 1991 release Weld, one of the greatest live albums ever, showcased grunge's spiritual presence in a live setting.
The reason why Neil Young is the "Godfather of Grunge" cannot be pinned down to a single methodology, or a continued technical aspect of his production. He wasn't the first to infuse distortion into his songs. Many argue in favor of The Kinks, and many other early '60s psych-rockers there. And it's not that he was the first to sing of woe and youthful aggression. Plenty came before. But listen to any one of his releases – whether it's Rust Never Sleeps, Ragged Glory, or even early Buffalo Springfield material – and browse his discography. Young's influence is impossible to overlook. On a purely superficial level, his plaid shirts and unkempt hair made it all the more comprehensible. Like many grunge heroes, he seemed to always dress like it was autumn. But even that hardly matters. Any pivotal figure in the grunge movement, including Cobain and Albini, proudly pays tribute to Young for one specific reason. He was able to inject life into a presentation that, prior to him, was indecipherable and unclassifiable. Distortion and aggression found new life in his music, even in its most solemn and melancholic moments. It is an essential aspect of grunge that often goes overlooked.
Around the Web